7 Best Apps To Learn Reading Spanish
06/03/23
When it comes to learning or improving one's reading skills in Spanish, the first method that comes to mind is to open a book or a newspaper and start reading it.
Although this is not completely wrong as reading in Spanish exposes students to the actual language in use, reading apps are a much more helpful tool.
Nowadays these apps include a wide range of materials, from news items to short tales, and frequently have tools like reading comprehension practice activities, vocabulary lists, and audio recordings to make it easier to learn reading Spanish.
In this article, we will look at and compare some of the best reading apps for Spanish learners. Whether you are a beginner, intermediate or an advanced learner, you'll surely find the app suiting your needs and interests.
Goggles on! Ready for the deep dive?
Newsdle
Newsdle is an excellent resource for anyone who wishes to sharpen their Spanish while keeping up with current events and learn more about Spanish and Latin American culture.
Newsdle is the most student-centric reading app available and it offers full language immersion and support to its users. It is perfect for both independent learners and teachers looking for something different and engaging to propose to students. Not only the content of every article is high quality, but it also comes with tools to support the student throughout their reading practice.
Newsdle app
Newsdle at a glance
Android & iOS: Yes

Free: No (

free sample articles available

)

Graded readings: Yes

Audio: Yes (native speaker)

Reading activities: Yes

Translation: Yes

Dictionary: Yes (+ two lists/article: keywords and proper nouns)

Flashcards: Yes

Grammar: Yes



Once you've opened the article, every tool you need is just one tap away: two glossary sections (Keyword and Proper Nouns), a short in-context grammar explanation and the audio recorded by a native speaker.
Moreover, Newsdle offers a key feature to help you practise your reading skills actively: the reading comprehension test.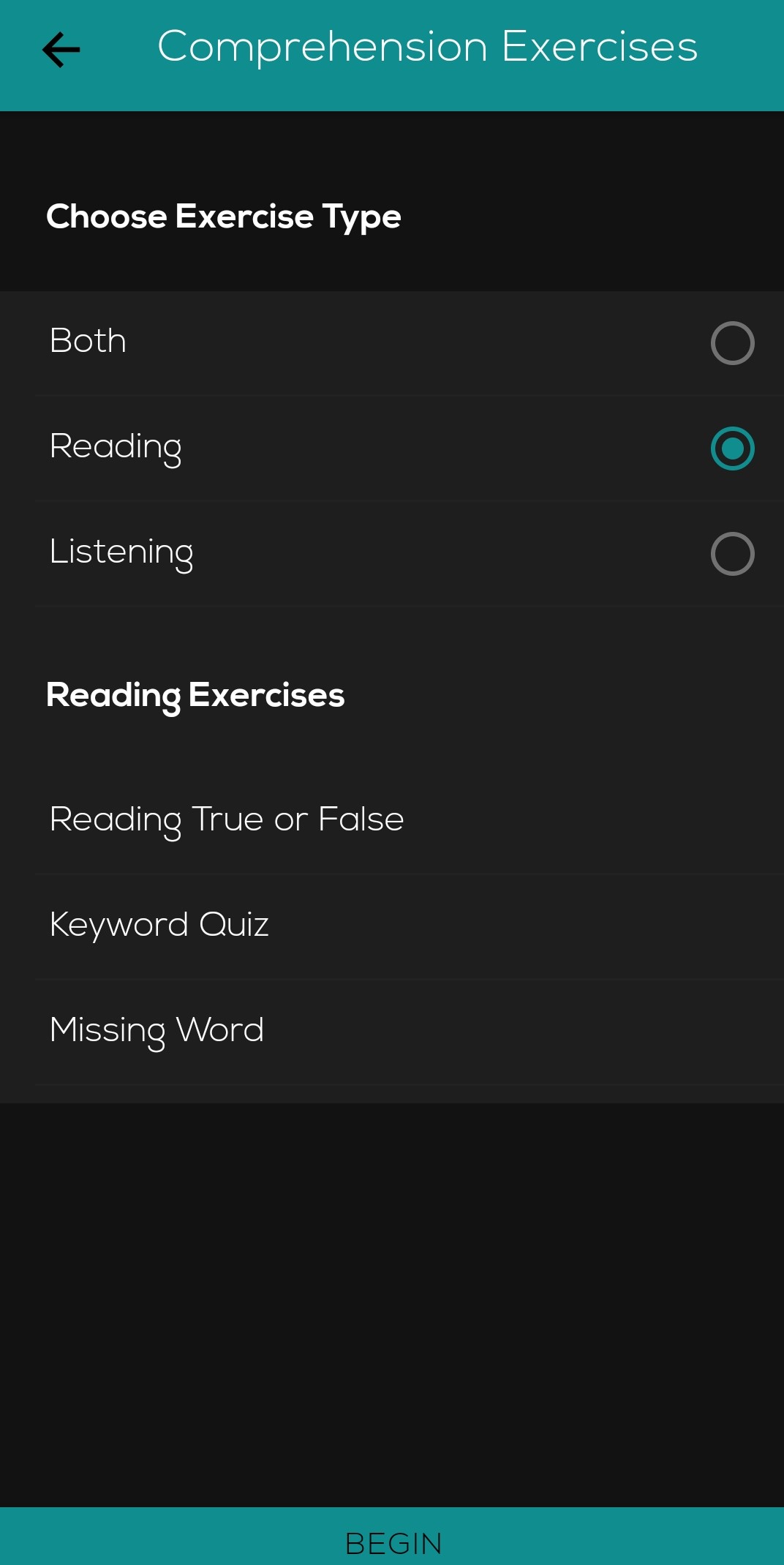 Newsdle comprehension exercises
Newsdle students can choose to focus either on a Spanish reading or listening test, or they can take both in one go. The tests are complete and explore all important subskills but you can also choose to concentrate on one specific subskill depending on your goals and weaknesses.
Another excellent feature is the diversity of topics covered. There is something for everyone, from politics and business to science and entertainment. This is very helpful for learners who have multiple interests and preferences aside from the standard topics found in textbooks or are eager to explore the different aspects of both Spanish and Latin American cultures.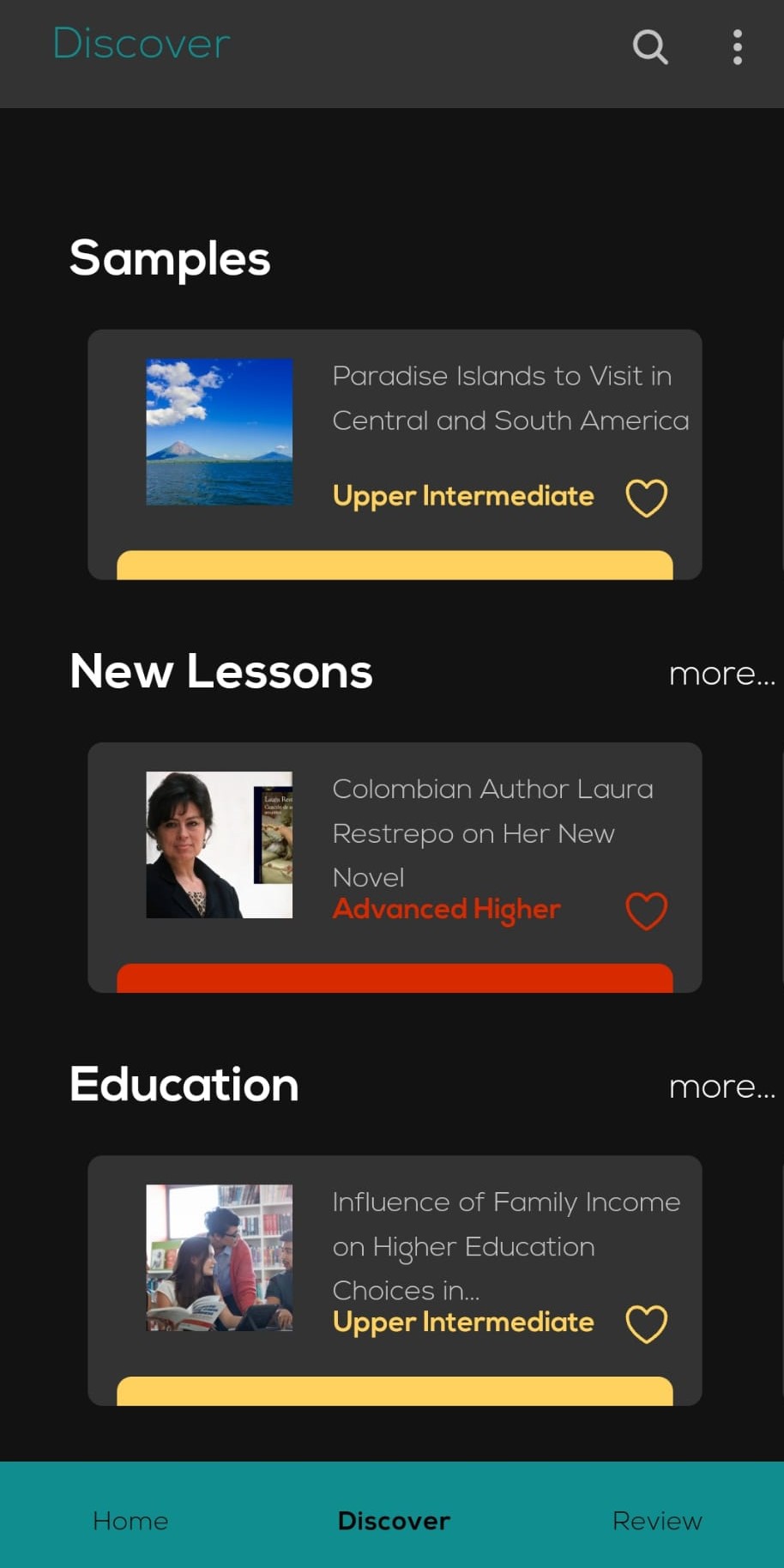 Newsdle Discover page

As a result, students are exposed to a variety of writing views and styles, which can help them get a more comprehensive understanding of the language.
Last but not least, any Spanish student can access Newsdle as the content is always graded. Whether you are a beginner or an advanced learner, you can study at your own pace.
Considering the structure of every article, the variety of topics and the content being graded, Newsdle is a great ally for both independent learners and teachers who can tailor the reading experience to students' interests, which makes it even more enjoyable.
Listen and Read Spanish / Español Leer Y Escuchar
Listen and Read Spanish (LRS) / Español Leer Y Escuchar (ELYE) are two budget-friendly apps that can support any student looking for a quick review or practice.
The main goal of the two twin apps is to help students improve their reading skills while offering several graded texts with a short reading comprehension quiz at the end of every article.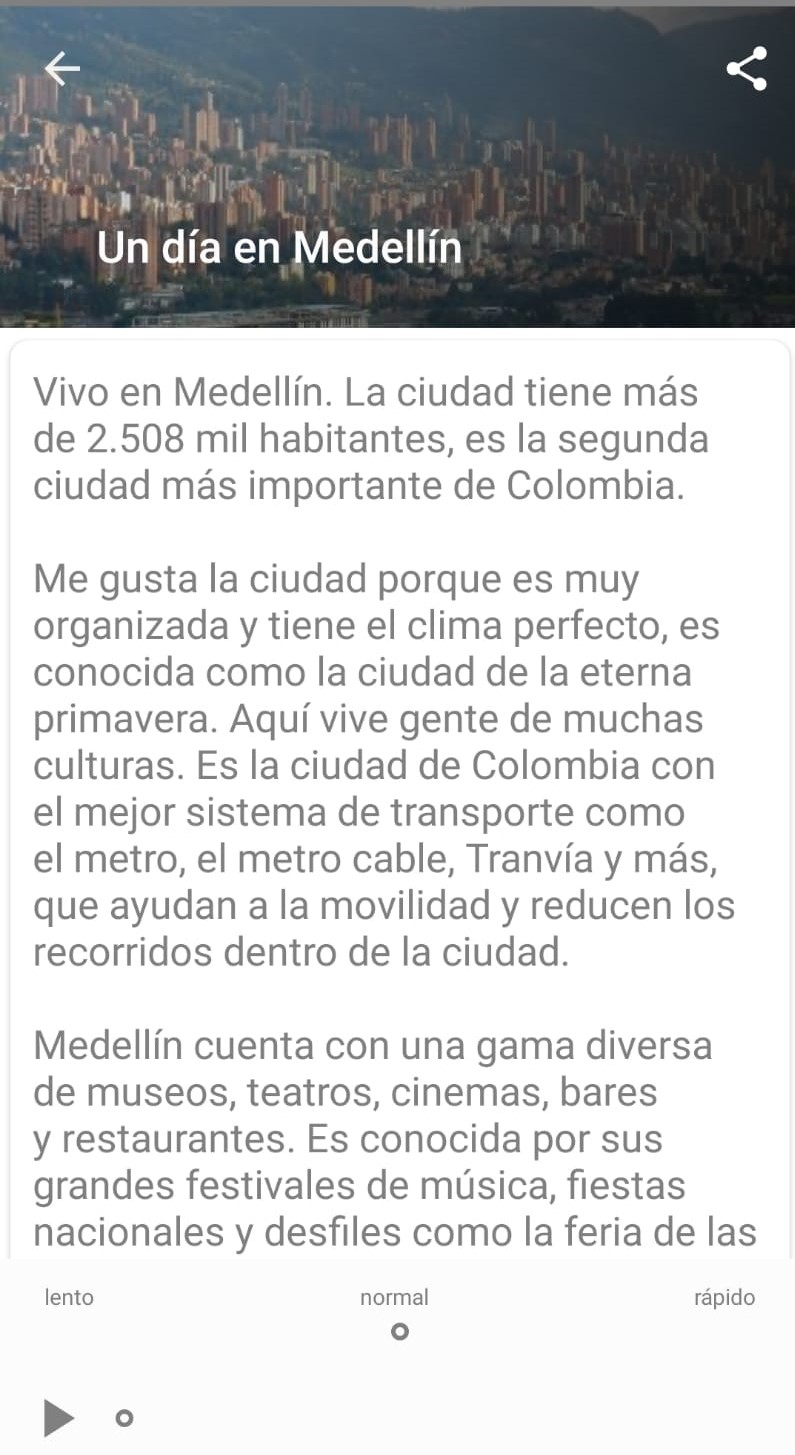 LRS and ELYE
LRS and ELYE at a glance
Android & iOS: Yes

Free: Yes

Graded readings: Yes

Audio: Yes (native speaker)

Reading activities: Yes

Translation: No

Dictionary: No

Flashcards: No

Grammar: No



Although they are "twin apps" as they share the same developer, structure and some content, ELYE articles are divided according to CEFR levels (A-B-C) while LRS ones are categorised according to more generic levels (Easy-Medium-Hard).
Both reading apps allow students to choose from a variety of topics, including news, culture, and entertainment. The reading exercises are challenging but not overwhelming and with the option to adjust the playback speed, everyone can learn at their own pace and gradually increase the difficulty level.
Having tested both of these resources, I must say that the combination of listening and short reading exercises really helps to reinforce your understanding of the language. Plus, the content is both engaging and informative and it manages to keep students motivated and interested.
Beelinguapp
Beelinguapp is another amazing language-learning programme that focuses on Spanish reading and listening. Beelinguapp offers a wide choice of texts in Spanish, including stories, news, and even song lyrics, all of which are displayed in both Spanish and English.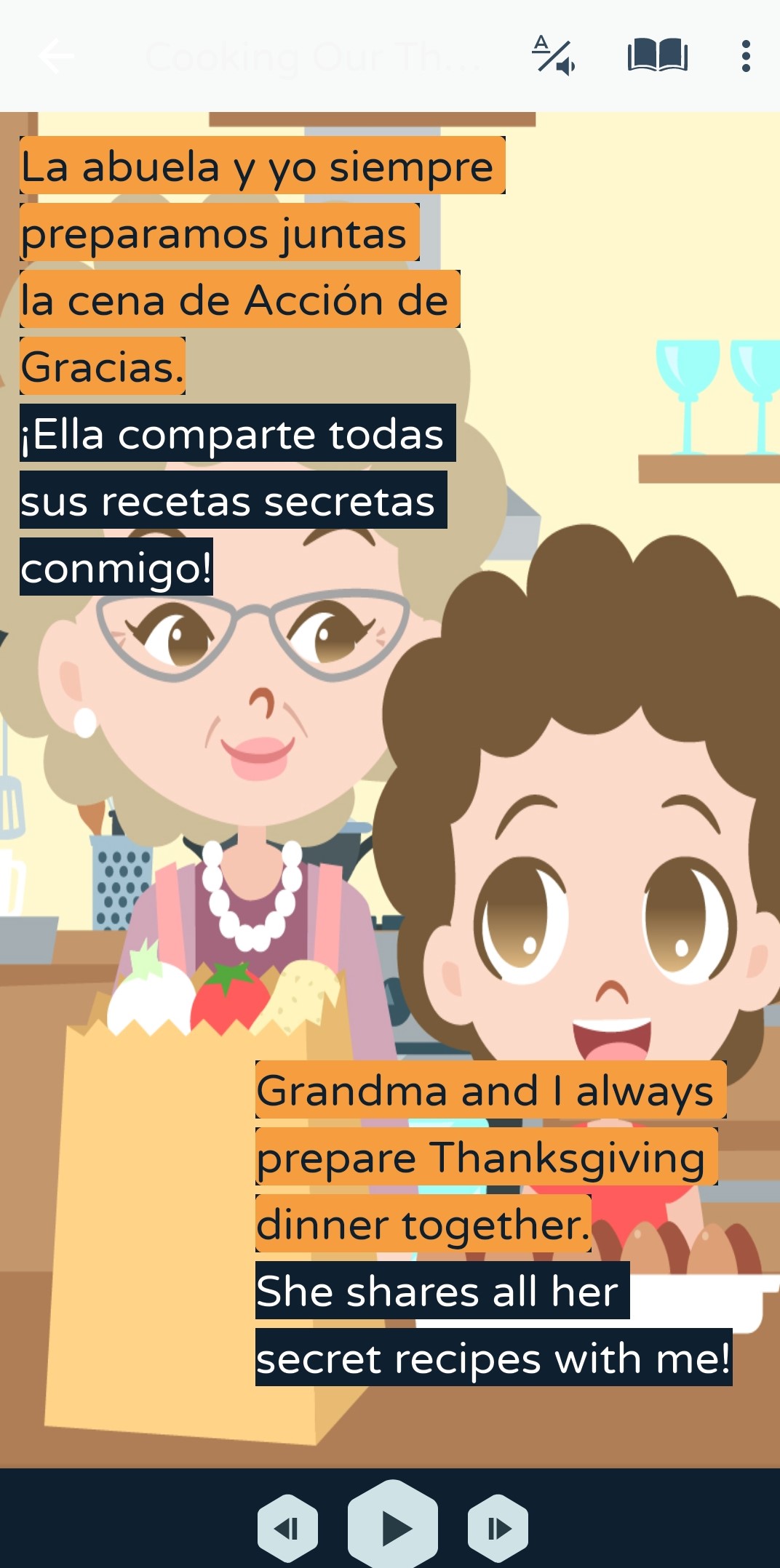 Beelinguapp
Beelinguapp at a glance
Android & iOS: Yes

Free: Yes

Graded readings: Yes

Audio: Yes (AI generated)

Reading activities: Yes

Translation: Yes (parallel texts ES|EN)

Dictionary: Yes (Premium feature)

Flashcards: Yes (Premium feature)

Grammar: No



You can take reading comprehension tests at the end of each reading session, and you can even create your own flashcard deck, though this is a premium feature.
In comparison to Newsdle, Beelinguapp does not provide grammar explanations, therefore you may feel a little lost in some sentence constructions and may need external support, be it a coursebook, a grammar forum or app.
EWA
For all those students who are fans of video games or who usually struggle with standard Spanish lessons, EWA might be just what they need thanks to its high level of gamification.
Although it is mainly focused on providing a digital language course with entertaining lessons and exercises focused on grammar and vocabulary, EWA also offers a library designed to help you build your vocabulary and somehow train your reading skills.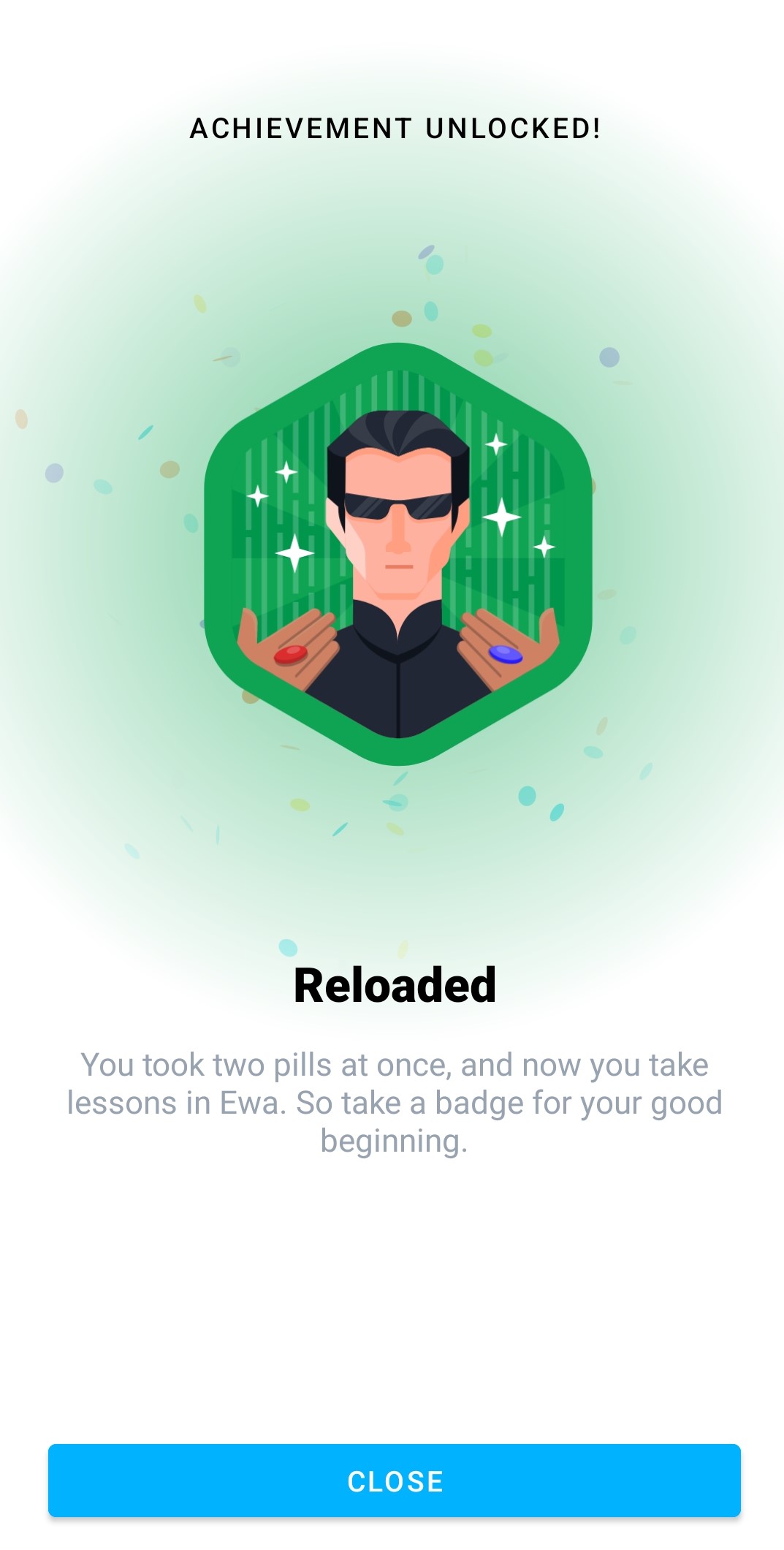 EWA
EWA at a glance
Android & iOS: Yes

Free: No (free trial for

three

days)

Graded readings: Yes

Audio: Yes (computer generated)

Reading activities: No

Translation: No

Dictionary: Yes

Flashcards: Yes

Grammar: Yes



EWA digital library provides a wide range of texts in Spanish, from classics to short stories and poetry.
One of EWA highlights is that it uses artificial intelligence to personalise your learning experience, so you can focus on the areas where you need the most help.
Spanish Reading Apps: Side-By-Side Comparison
Newsdle

Learn and Read Spanish

Beelinguapp

EWA

Android & iOS

Yes

Yes

Yes

Yes

Free

No

(free sample articles)

Yes

Yes

(in-app purchases)

No

(free three-day trial)

Graded readings

Yes

Yes

Yes

Yes

Audio

Yes

(native speaker)

Yes

(native speaker)

Yes

(AI generated)

Yes

(computer generated)

Reading activities

Yes

Yes

Yes

No

Full text translation

No

No

Yes[Text Wrapping Break](parallel texts)

No

One-click dictionary

Yes

No

Yes

(Premium)

Yes

Vocabulary lists included

Yes

No

No

Flashcards

Yes

No

Yes [Text Wrapping Break](Premium)

Yes

Grammar explanations

Yes [Text Wrapping Break]in context

No

No

Yes[Text Wrapping Break]as part of a course

Desktop version

Yes

No

No

No

Student performance data

Yes

No

Yes

Yes

Latin American Spanish also available

Yes

No

No

No

New content daily

Yes

No

No

No
Digital Libraries
Taking a break from quizzes and tests? What about trying some Spanish digital libraries? These apps offer a wide selection of Spanish-language books, from classic literature to contemporary fiction, and everything in between, with the possibility to build a customisable Spanish digital library.
Important: Although these apps offer one-tap dictionaries to improve your vocabulary, they usually do not include reading activities.
Spanish Short Stories Book
Are you a teacher or a student who loves short stories? Do you want to boost your Spanish reading skills but you're always on a run? You should definitely check this app out! It provides a selection of short stories in Spanish of various genres and levels of difficulty.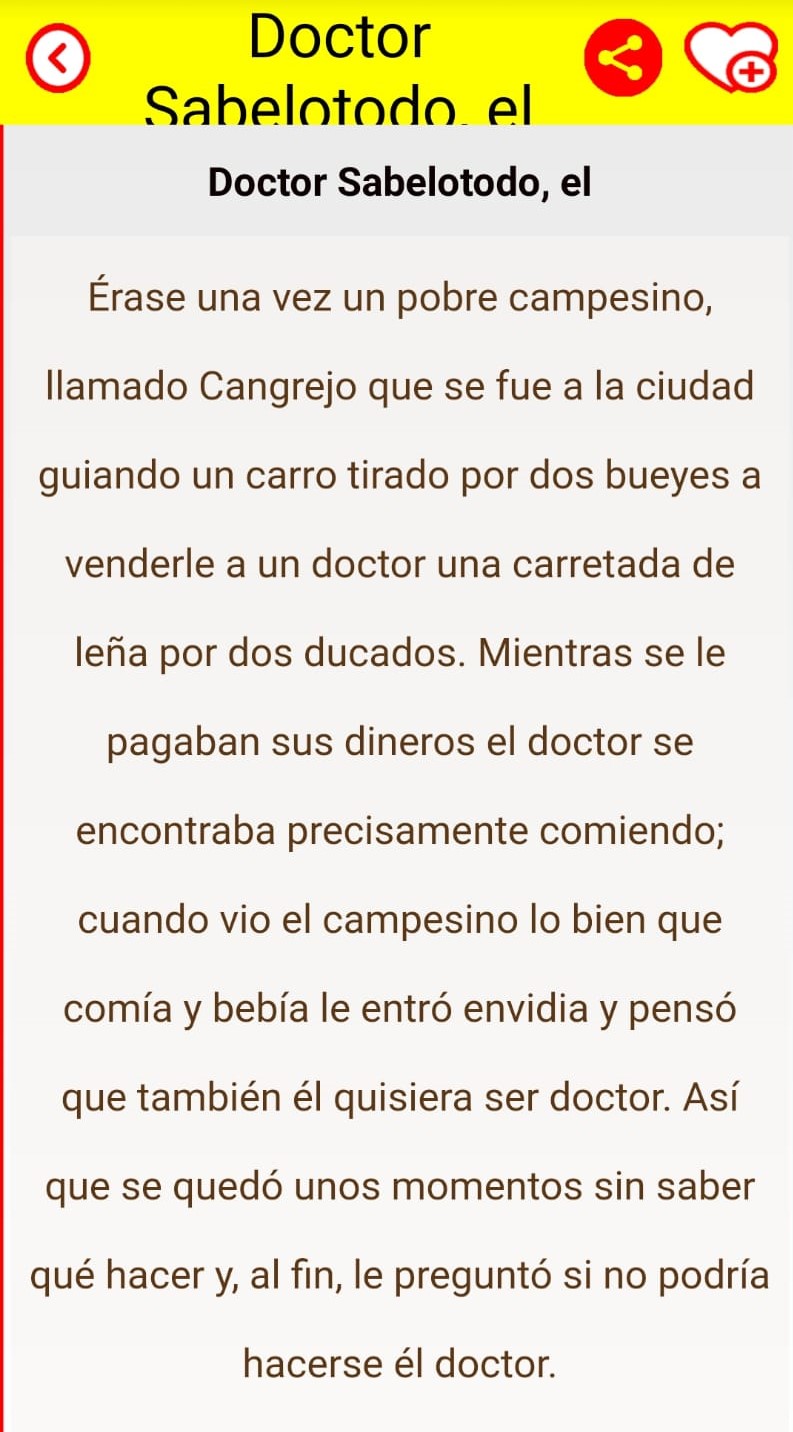 Spanish Short Stories Book
Read and Learn
A digital library that may be customised.
Yep, you read that correctly! This reading app includes two texts for Spanish beginner and elementary students, but you can also upload your own books, articles, papers, and other materials! It could be useful to create a personalised and shared digital library for your class :)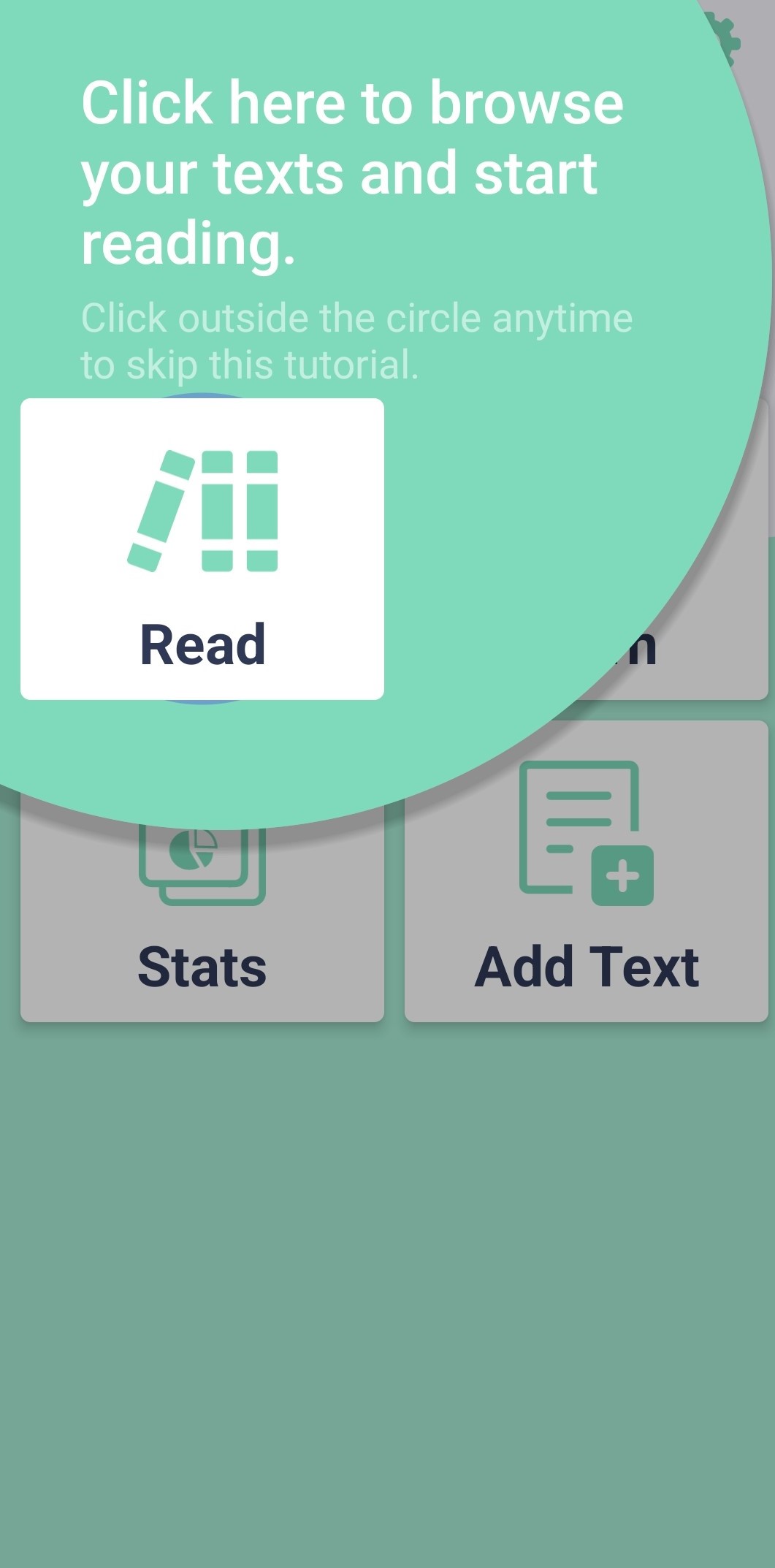 Read and Learn
Spanish

Reading & AudioBooks
If bookworm is your second name, then you'll love "Spanish Reading". This reading app is specialised in books in Spanish and it offers Spanish tales for beginners, an elementary Spanish reader and other ten authentic Spanish novels for intermediate and advanced learners. There is also an audiobook section which you might find useful if you want to boost both your reading and listening skills!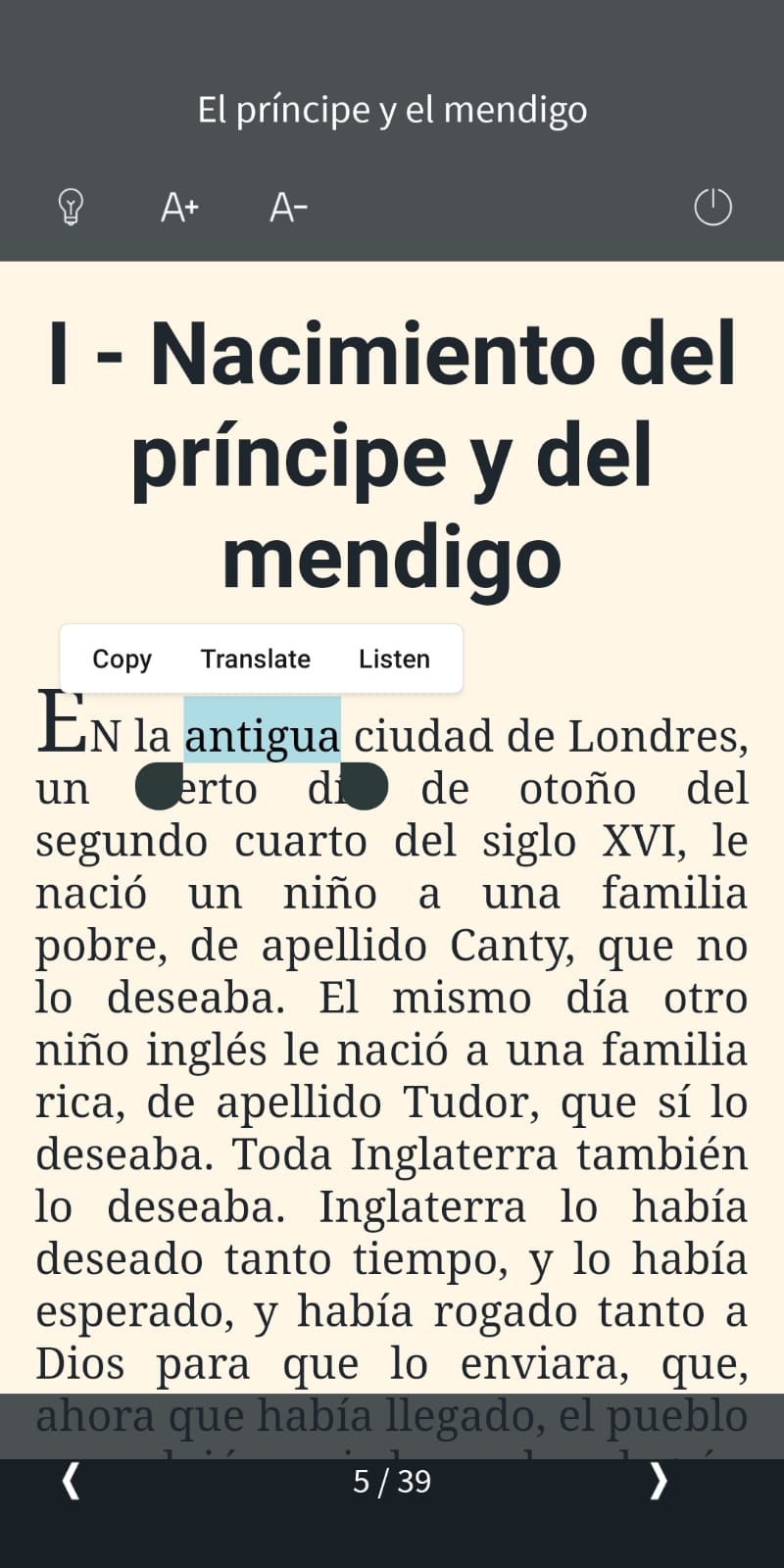 Spanish Reading
The Benefits Of Reading Apps To Learn Spanish
Convenience

: As long as you have access to a smartphone or tablet, reading apps help you practise your Spanish reading

skills

whenever and wherever you choose. This makes it simple to include language practice into your everyday schedule, even if it is hectic.

Personalisation

: You can develop individualised learning experiences catered to your requirements and ability level. This allows you to grow at your own speed while concentrating on the areas where you or your students most need assistance.

Variety

: Reading apps frequently provide a selection of texts and activities covering a variety of subjects and genres. This enables you to read a variety of texts and expand your vocabulary.

Feedback

: Several reading apps provide you quick feedback, allowing you to monitor your progress over time and see any areas where you might need more practice.

Gamification

: Several reading apps incorporate game-like elements like incentives and progress monitoring.
8 Effective Ways To Learn Spanish Using A Reading App
Reading activities

: Testing your reading comprehension is as important as learning vocabulary and grammar.

Set your goals

: An example of a learning objective is reading a specified amount of articles or expanding your vocabulary in a particular subject. What's yours?

Be consistent

: The key to success in reading in Spanish is consistency. Try to use the Spanish reading app either everyday or every other day.

Like your readings

: The learning process may be made more fun and inspiring by reading books you find fascinating or engaging.

Paper and pen

: Making notes of new terminology or important ideas from the materials you're reading will help you recall what you've learnt and reinforce what you've already learned.

Read aloud

: It may help you sound more fluent and pronounce words correctly.

Treasure feedback

: Use the app's reading assignment feature. This might show you where you might need to practise more or get better.

Track and improve

: Monitor your progress over time and pinpoint areas that require more attention.
Online Tutor or App: Which is Better to Learn Reading Spanish?
From a student's perspective, working with a teacher or online tutor may be a fantastic approach to boost your reading abilities, particularly if you're just starting out or like more organised learning. An online tutor may provide you individualised criticism and direction, respond to your inquiries, and assist you in honing your abilities in a conversational setting.
However, reading apps may also be a helpful tool for learning a language, either on their own or as an addition to teacher-led lessons. You may practise your reading skills with reading apps, which frequently include a selection of books, news articles and activities that can be customised to your ability level and interests.
As a teacher, I personally use reading apps exercises as part of their homework, reading activities in class or as extra individual tasks so as to better rely on students' learning preferences, goals, and style.
By using reading apps with the students, teachers can help them with any difficulties or queries they may have as well as offer further direction and comments on the content they are learning through the app.
At the same time, students can benefit from this "fantastic duo" to advance more quickly and successfully meet their language learning objectives.
Entonces…
Spanish reading apps can be every teacher and student's best partner in crime.
They can be a useful resource supplementing classroom activities and they provide students the chance to practise reading Spanish in a light-hearted, engaging approach that might help learners gain confidence and fluency.
Go ahead, try one and feel more confident in reading Spanish!
Author: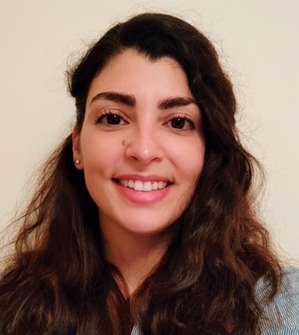 Fabia Parodi
Fascinated by foreign languages and cultures, Fabia Parodi was determined to be a polyglot since she was a child. Fluent in Italian, English, French and Spanish and competent in Mandarin Chinese, Fabia is an experienced language teacher, translator and multicultural marketing specialist.
When in class, she always make sure to include graded and authentic materials in her lessons to expose students to foreign cultures and to introduce a more natural use of the language they are learning. The two things she loves more than languages are travelling and exchanging stories with people from all over the world.