Foreign Language in High School Statistics for the US, UK and EU
11/07/22
It is suggested that foreign language enrolment statistics at high school and college level have consistently fallen since the 2008 Global Recession. Despite this, there are still reasons to be positive. With the development of online resources, language learning is adapting and flourishing in a changing educational environment.
This article will assess foreign language study in high schools and colleges in the US, UK and EU. It will also give some insight into the changing market and expectations for coming years.
Foreign language enrolment statistics in the US



Foreign language enrolment accounts for 20% of the school age population in the US. K-12 Spanish has over 8,000 language programs across 51 states. Over 93% of high schools with language programs offer Spanish and overall high school foreign language enrolment in the US is over 10 million.
91% of US high schools offer foreign language programs and Spanish is the most widely taught second language. Over 6.5 million students study Spanish at high school level in the US. Spanish is the most studied foreign language in America. After Spanish, the next most popular languages for foreign language enrolment are French (15%), German (4.5%), Latin (2.3%), Japanese (0.8%), Italian (0.7%) and Chinese (0.7%).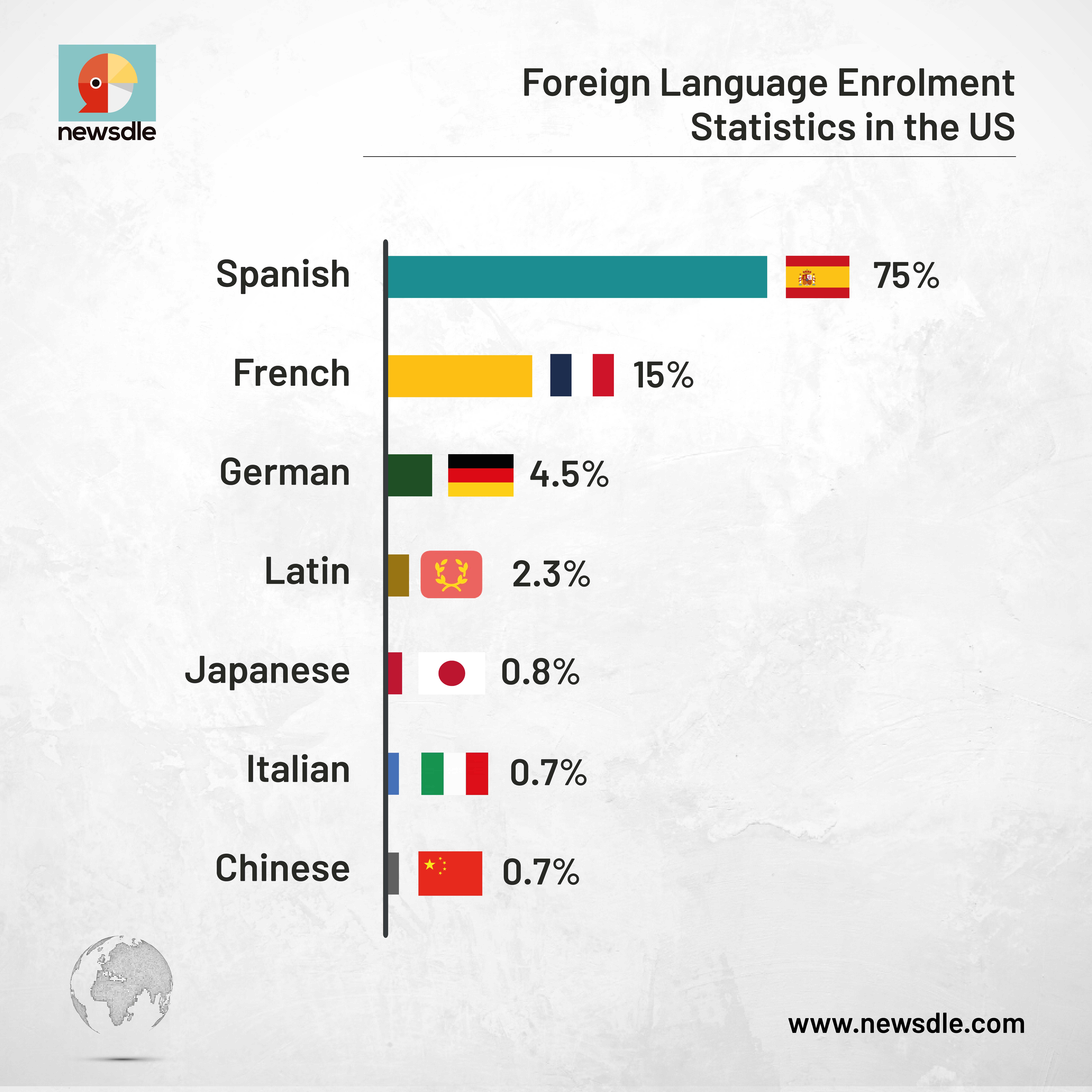 Among foreign languages in the US, Spanish continues to thrive in popularity, helped in large part by the fact that over 40 million people in the US speak Spanish at home. It is seen as a key language for trade and cultural exchange due to geographical location. Over the past decade, this trend has given rise to many more Spanish immersion schools opening in the US.
Language immersion schools in the US

Language immersion schools in the US are schools in which at least 50% of daily instruction must be in a non-English language. By 2021, over 3,600 such programs existed in the US. By far the most popular dual language immersion schools in the US are Spanish language (80%), although it is also significant to note the rise of Chinese language enrolment at immersion schools in the US (8.6%). Research suggests that students who are enrolled in dual-language immersion schools often out-perform their peers in standard US high schools.
Virtual high school language study in the US

The rise of 'virtual high schools' in the US are a significant factor in high school foreign language enrolment. Such schools allow students to enroll in courses that are not offered in their traditional classrooms. This means that students can study languages despite their school or district not having a language teacher for the target language. This makes language learning at high school level more accessible and reduces the financial burden on academic institutions.
Foreign language enrolment statistics at secondary schools in the UK

At Key Stage 3 in the UK (age 11-14) it is compulsory to study a modern foreign language. At both GCSE (age 14-16) and A-level (age 16-18), both modern and classical languages are taught. The most popular second languages at A-level are Spanish (8,000 students) and French (7,800 students), followed by German (2,800 students). Spanish overtook French as the most popular second language at A-level for the first time in 2019.
The UK government has also been keen to reintroduce ancient languages such as Latin, with a £4m grant being launched in 2022 to develop the study of ancient languages.
The rise of ancient and modern language at secondary schools in the UK

This Latin Excellence Programme will follow the success of the Mandarin Excellence Programme. Launched in 2016, and of which The Chairman's Bao is a recommended resource, the Mandarin Excellence Programme was a £10m government grant to improve Chinese instruction in UK secondary schools. Through the Department for Education funding, the Mandarin Excellence Programme now teaches across 75 schools and over 8,000 students have benefitted from the initiative. It has been heralded as a wide success in response to the growing importance of Mandarin language on the world stage.
As a personal reflection having visited some Mandarin Excellence Programme schools, it is great to see students learning Chinese who would not otherwise have had the opportunity. At one school I visited, the students had recently been to a local Chinese restaurant with their teachers and parents. The students' parents were amazed as their children ordered dishes in Chinese. The visit highlighted how great it is that students have embraced a language that their parents would not have had access to during their own time at school.
The Mandarin Excellence Programme has helped to increase Chinese language enrolment in the UK, although it would be great to see the initiative rolled out further to more public schools.
Problems with foreign language enrolment in the UK

A European Commission report in 2018 found that just 32% of 15- to 30-year-olds in the UK can read and write in a second language. This lags far behind Denmark (99%), Germany (91%) and France (79%). But what more can be done to promote second language interest among young people in the UK?
The UK still has a long way to go to make foreign languages more accessible to students across school types. An increase in tuition time and skilled teachers, coupled with different entry levels for higher age groups, will support this change. More emphasis should be placed on second language tuition in public schools, as foreign language enrolment throughout school age students is still heavily weighted in favor of fee-paying, private schools.
Primary schools are teaching foreign languages, but not for long enough

At Key Stage 2 (age 8-10) it is now compulsory for primary school students to study ancient and modern languages. French is offered in 75% of UK primary schools and Spanish in 25%. Next most popular is German at 5%. Primary school students in the UK only spend an average of 45 minutes per week in second language classes. People in the UK are often criticized for their lack of study of foreign language, due to the global dependence on English. Despite this, we must reflect on the level of tuition as a key factor in lack of second language take-up post-GCSE level in the UK. 45 minutes of instruction per week is simply not enough time to develop and flourish in the study of a second language.
Heritage speakers making examinations unattainable to second language learners

Criticism has been leveled at the grading for foreign languages, particularly at A-level in the UK. It has been widely reported that students who speak a second language at home to fluent level (heritage students) are taking these languages to boost their A-level grades and give them a higher chance of attaining a university place. It is important that different levels of entry are offered at A-level for foreign languages going forward – a trend that has been growing in popularity at university level in the UK in the past decade. This will remove the barriers to entry of students studying foreign languages at A-level and offer a more level playing field.
Foreign language enrolment statistics at secondary schools in the EU

As of 2019, 96% of pupils in the EU were studying English as a foreign language. English is the most popular second language of study in the EU. Within the EU, 91% of students study English in school. Following English, the next most popular languages studied at high schools in the EU are French (15%), German (11%), Spanish (9%) and Russian (2%).
Many European countries mandate that students must study more than one foreign language. It is more popular in the EU than in the US and UK for students to study two or more foreign languages, with more than 60% of students enrolled. In contrast to many other countries in the EU, only 12.1% of students in Ireland study two or more foreign languages, 6.3% in Portugal and 0.7% in Greece.
Linguistic diversity in foreign language enrolment in the EU



Linguistic diversity is a key factor in second language selection within the EU. The only countries within the EU where a majority of students are not studying English as second language are Belgium and Luxembourg. This is due to the language make-up of the countries which have areas that predominantly speak French, German or Flemish. Russian is also most often learnt in countries that border the Russian Federation, or by former members of the Soviet bloc.
Foreign language enrolment at colleges in the US, UK and EU

Students can elect to study foreign languages at colleges and universities in the US, UK and EU. Many students choose to continue a language that they have studied at high school level, although it is also popular to take up a new foreign language post-18. Ancient and modern foreign languages such as Chinese, Arabic and Russian are popular choices as new languages to study at college and university.
Foreign language enrolment statistics at US colleges

Since 2013, foreign language enrolment at US colleges has fallen by up to 23%. Amid the Covid-19 pandemic, foreign language enrolment at US colleges continued to fall. A similar trend was noticed following the 2008 Global Recession, where students elected to study more traditional subjects rather than those seen as 'nice to have'.
Initiatives such as Generation Study Abroad in the US aimed to stimulate interest and growth in foreign language study among college students. Unfortunately, with the impact of the Covid-19 pandemic, less students have been able to achieve their ambition of study abroad programs, which has hampered this growth.
Foreign language enrolment statistics at UK universities

The number of acceptances to UK university foreign language degree courses at undergraduate level has fallen by more than 36% since 2011. There were only 3,825 acceptances to foreign language courses in 2020. This statistic is helped in no part by the fact that seven UK universities dropped their foreign language degrees in 2019.
UK students have the perception that languages are challenging subjects and that it is difficult to attain high grades. This leads to many students opting for more traditional degree courses. More must be done to break down the barriers of second language study in UK schools and better communication given as to the accessibility of university courses. Indeed, many universities now often offer different tracks based on your language level on acceptance.
Why is foreign language study important in high school?
Learning foreign languages at high school can open students up to a world of opportunities. We have already commented on many of the reasons that students do not take up languages post-compulsory age in the US and UK. Let's focus on some of the benefits of studying a foreign language at high school!
Get credits and qualifications to help you progress.

Learning a second language is a great supporting tool for college and university applications. With the overall declining trend in second language enrolment at high school, studying a foreign language can help students stand out and appeal to admissions departments.

Improve memory and creative thinking.

It's widely known that bilingual people are better at problem solving and multi-tasking. It's a great way to flex those mental muscles!

Better job prospects.

A recent survey indicates that UK employers are most seeking candidates with fluency skills in Spanish, French and German.

Embrace new cultures and make new friends.

Learning a second language at high school exposes students to new cultures and people. The ability to further language skills with study abroad and travel opportunities provide further chances to prosper.

Language learning is more accessible than ever before.

With online language learning tools such as

Newsdle

, there has never been a better time to study languages. Gone are the days of large passage translating and trawling through an ancient print dictionary!

Have fun!

It is important to never lose sight of the fact that learning languages should be fun, regardless of age or level of study. The more enjoyment that is had early on in the classroom, an increasing number of students will elect to study foreign languages at high school and beyond.



Is the future bright for foreign language education in the US, UK and EU?

Despite the downward trend of high school language enrolment statistics, the future is still bright for second language study. Global events such as Covid-19 and Brexit in the UK have opened new opportunities for intercultural exchange and language study. More funding and emphasis should be placed on language study throughout schools and colleges. With the improvement in online services such as Google Translate, it has become too easy to rely on third party input to communicate. Despite this, machine learning will never match the ability to communicate one-to-one in a person's native language to promote cultural exchange and understanding.
Author: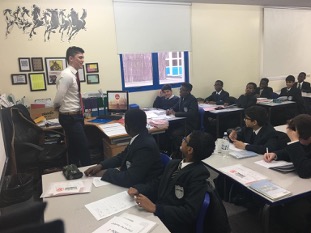 Sean McGibney speaking to students at Beths Grammar School about his experience of learning Chinese, living in China and founding Newsdle and The Chairman's Bao.
Sean studied Chinese and Spanish at University of Leeds and founded The Chairman's Bao alongside Tom Reid in his final year of study in 2015. Current Managing Director of The Chairman's Bao, he has overseen the company's growth from university bedroom concept to an international force in the EdTech industry with over 200,000 individual users and over 400 global partner institutions. Sean also launched Newsdle alongside Tom Reid and Oliver Leach in 2021, for students and teachers of Spanish and French. In his spare time, Sean is still a keen language learner and runner. He also sits on the Board of charity Leeds Irish Health and Homes in the UK.
Sources:
Amcad
American Councils
British Council
Europa.eu
Education.gouv.fr
Gov.uk
ACTFL