23 Best French Newspapers to Learn French
22/02/23
The immersion method of learning French, or any language for that matter, has become increasingly popular with teachers and learners. Immersing yourself in the language – for example, watching movies in French, listening to French songs, reading French newspapers and magazines, browsing websites in French – is now regarded by many to be more effective than the traditional methods of studying a textbook, learning grammar rules and vocabulary lists.
Successful language learners also advocate immersing yourself in the things that interest you. So if you are interested in current events, international affairs, politics or the economy, then reading the news in French language is an ideal immersion method. It should be noted that learning French through newspapers best suits Intermediate to Advanced learners because a lot of the vocabulary used in newspapers will be unfamiliar to beginners.
Here is a list of some of the best French newspapers for learning the language.
National French Newspapers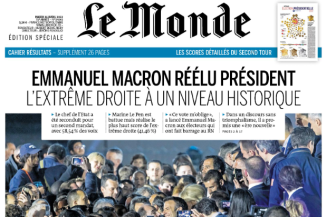 Le Monde is arguably France's best-known, most prestigious newspaper. It will also be the easiest to find on a newsstand if you want to get hold of a paper version but live outside of France. It's known for its high-quality journalism, and its political leanings could be described as liberal centrist. As well as news, Le Monde also has articles on topics of special interest, such as technology, culture, and entertainment. Le Monde, like most newspapers, has a website to browse articles. However, the majority of the articles are inaccessible unless you subscribe.
Le Figaro has the distinction of being France's oldest newspaper still in publication. First published in 1826, it began as a satirical magazine, often poking fun at the aristocracy. However, by the time it became a daily national newspaper in 1866, it was known for its conservative views, a political stance it still maintains today.
Like Le Monde, it covers special interest topics in addition to the news of the day. Some of the website articles come with audio tracks that you can listen to while reading. Like most online newspapers, it offers the full multimedia experience with video articles and podcasts on a variety of topics. Although there is a paywall for some articles, it has a lot more free articles than Le Monde. The subscription rate is also lower, especially if you purchase through a Google account.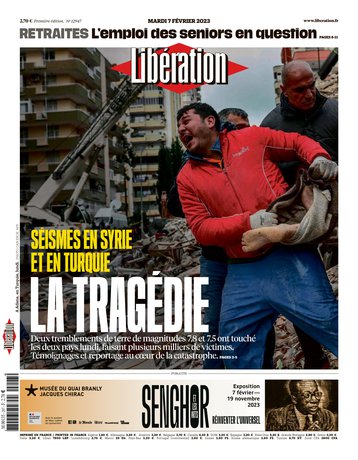 Libération, or 'Libé' as it's commonly known, is another of the top French newspapers. It has a more left-wing stance than Le Monde and Le Figaro and has always had a reputation for high-quality photojournalism. It tends to have longer articles that go into greater depth than the other two but doesn't cover as many stories. Most of its articles are locked behind a paywall, but it is currently running a special deal on subscriptions to mark the fiftieth anniversary of its founding. (It was founded in 1973 by a group of writers and journalists led by the famous novelist Jean-Paul Sartre).
Les Échos is France's daily finance newspaper, though it's not all stock market news in French. It covers national politics, regional news and international events, plus sections on technology and media. Subscription rates are higher than the other three national newspapers, but several of the main stories can be read for free.
Note that all four of these newspapers are targeted at a well-educated, mainly professional readership. Therefore they best suit French learners who are at an Advanced level.
Free French Newspapers and Online Newspapers
This free newspaper is based in Paris and has regional versions in six other cities. It is distributed at Metro stations to daily commuters. It also has a website using the same formula of short, breezy articles on a range of topics, making it one of the best French newspapers for learning French, especially for Intermediate learners.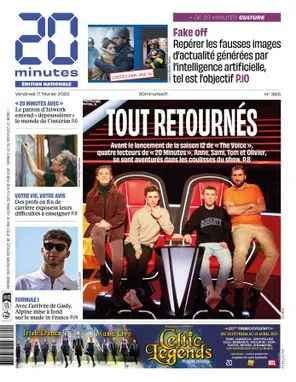 The direct competitor to C News, 20 Minutes gets its name because it is designed to be read in around 20 minutes, or a comfortable commute to or from work. It is the oldest and most widely read of the free commuter newspapers and is available in Paris and eleven other regional cities. It's similar in coverage to C News, though an interesting addition is a section on Fake News (which it calls, in English, 'Fake Off'), that fact checks and exposes claims circulating on social media.
Launched just 15 years ago, Mediapart is an online newspaper with a focus on investigative journalism. Already in its short history, it has tallied up an impressive array of scoops and exposés, which have seen ministers resign and government officials prosecuted. Mediapart contains no advertising so relies entirely on subscriptions for its revenue.
Regional French Newspapers
If you plan to live or stay in a particular area of France, or have a special interest in the region, then it makes sense to get to know the place better by reading the local newspaper. Each of the 13 regions in France will have a newspaper for that area, as will the large cities, some published daily, others weekly.
Le Parisien could almost be classed as a national newspaper because, as well as its Paris edition, it releases a national edition, Aujourd'hui en France, available throughout France. Le Parisien is a tabloid tailored to a broader cross-section of the community, so the language is a little easier to understand. Unlike Le Monde and Le Figaro, it incorporates Twitter posts plus a Comments section at the end of articles. The online version has limited free articles, and the subscription rate is higher than the national newspapers.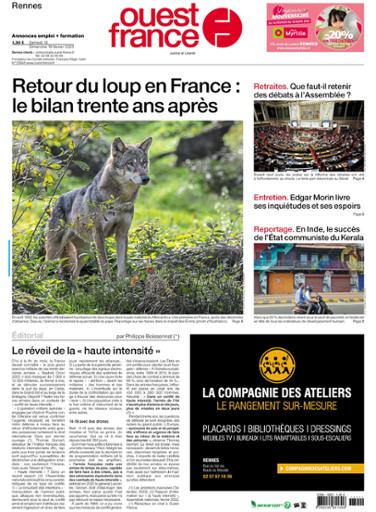 A quick trivia question: which French newspaper has the most readers? Le Figaro perhaps? Or maybe the capital's flagship, Le Parisien? Non, the correct answer is Ouest-France, the regional newspaper that covers Brittany, Normandy and the Loire Valley in western France, a favourite destination for many expats.
As well as local news in French, it has a national section and comprehensive international news. As part of the multimedia experience, you can watch video articles or listen to podcasts. You can also listen to the audio of an article, albeit read in a very robotic voice.
Lyon, France's second-largest city, is an undervalued place to visit, famous for its cuisine and historical sites that date back to Roman times. It is also the headquarters for Le Progrès, the daily newspaper for the Rhone-Alpes region. Le Progrès is one of France's oldest newspapers, founded in 1859. (And one of Le Progrès' subsidiaries, Le Journal de Saône-et-Loire, is the oldest French regional newspaper still in circulation, founded in 1826).
The local newspaper for the city of Toulouse and the Midi-Pyrénées region is a left-leaning daily newspaper (the paper's owner is a former leader of the LPG or Radical Party of the Left). Like many regional newspapers it also covers national politics, international news, culture and the arts, technology and so on.
Based in the city of Lille and servicing the Hauts-de-France region in the industrial north, La Voix du Nord has a relatively short but proud history. It started out as an underground newspaper in 1941, when the area was occupied by Nazi Germany, publishing anti-Vichy government news. This led to one of the newspaper's founders being captured and executed by the Nazis. A further five hundred of its journalists, workers and distributors were also killed for their underground activities.
That anti-right-wing legacy continues today; the paper has been a vocal critic of Marie Le Pen's National Front, which has made strong political gains in the region.
Sud Ouest, as the name implies, covers the south-west region of Nouvelle-Aquitaine, and is based in the city of Bordeaux, a regular top poller in the most liveable French cities lists. It has the second highest circulation in regional France, behind Ouest-France. The newspaper's motto is: Les faits sont sacrés, les commentaires sont libres (or "Facts are sacred, comments are free").
Overseas French Newspapers
Of course, French isn't just spoken in France, and if you are interested in reading about current events in the rest of the Francophone world there are plenty of newspaper options available to you.
Le Journal de Montréal is the largest circulation French newspaper in Canada. It is a mass-market tabloid newspaper, so its simpler vocabulary makes it an easier read than the broadsheets. Like most tabloids, the articles tend to be sensationalist, though it's also known for its investigative journalism, such as insider exposés on biker gangs, police corruption and religious cults.
Algeria doesn't have much freedom of the press, and several French-language newspapers have fallen foul of the authorities and had their doors closed. One of the few remaining independent newspapers in Algeria is El Watan, but currently inaccessible online. The online newspaper Le Matin de l'Algérie is another independent voice, offering an alternative to the bland articles of the state press and providing insights into one of the largest Francophone countries in the world.
Switzerland has some notable French-language newspapers, including Le Temps and Tribune de Genève. Le Matin is more tabloid in style and easier to read for French learners. Like other tabloid French news sites, it incorporates live blogging, Twitter posts and multimedia to cover a mix of local, international, sports and celebrity news.
After France, the country with the most French speakers worldwide is the Democratic Republic of Congo. This is another country where there are limitations on the freedom of the press and the government exercises control over the media. However, if you are curious about events in the Congo, Le Soft International is one of the more widely read newspapers. The website doesn't always get updated regularly (not a good sign for a news site), but you can usually read the latest edition of the print newspaper in pdf format.
Weekly French Newspapers
L'Obs is the re-branding of the respected weekly, Le Nouvel Observateur. Since 2014 it has been majority-owned by Le Monde, and there are similarities in some of the articles published. L'Obs has a reputation for publishing quality articles on literature, culture and the arts. Like most newspapers available online, there is a mixture of free and paywalled articles. The advantage of the online version is that new stories are published daily rather than weekly.
L'Express is another of the top weekly French news magazines, similar to Le Nouvel Observateur but with a more right-centrist stance. It has more articles on business and finance than L'Obs, but less focus on literature and the arts.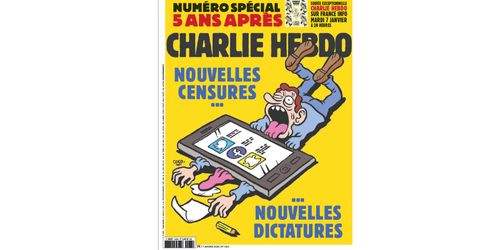 The weekly satirical magazine achieved notoriety after publishing cartoons depicting Muhammad. These cartoons caused an uproar amongst Muslims worldwide and resulted in a fire-bombing of the Charlie Hebdo offices and later a gun attack killing twelve.
Obviously, the magazine is not for all tastes. Still, if provocative and sometimes offensive satire against religion, the far right, and politicians in general is your cup of tea, it might make an interesting choice to help improve your French. You will need to subscribe to read the full articles.
Specialist French Newspapers and Magazines
Even if you aren't interested in politics and current events, there are still French-language newspapers to cater to specialist tastes, from sports and celebrity news to arts and science.
L'Équipe is a popular and influential newspaper where you can get your daily fix on sports, mainly football, cycling and rugby. The newspaper's website is a bit hard to navigate, but it does have plenty of free articles, and it's fun to read some of the comments left by readers after each article. If you're a sports fan, L'Équipe is one of the best French newspapers for learning the language.
If you like reading about television and films, then the weekly magazine, Télérama, covers both French and international TV and movies. It's more than just a TV and movie magazine however, as it also has articles on live entertainment, music and books.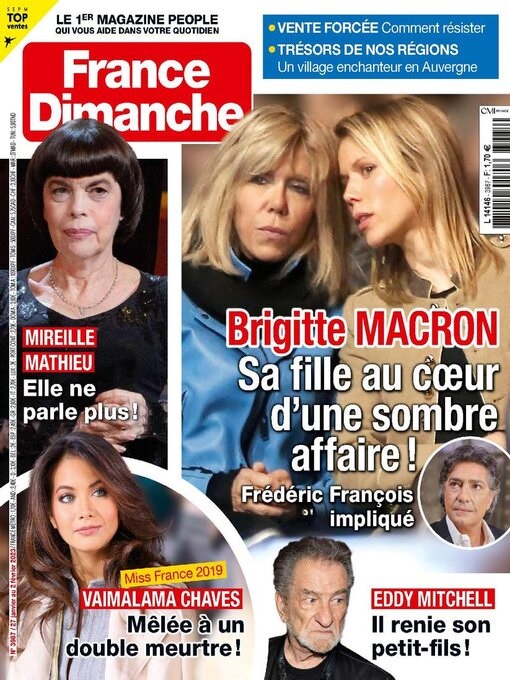 Our list of French news websites wouldn't be complete without a celebrity magazine. There are a few to choose from, for example, France Soir, Ici Paris and Paris Match. France Soir has a bit more news and current affairs, and Paris Match also focuses on fashion and lifestyle, whereas France Dimanche is at the trashier end of the market.
Tips for Learning French through Newspapers
For those of us who aren't lucky enough to live in France, often the only option is to read French newspapers online. This is either through reading individual online articles or a scanned copy of the newspaper. Most French news sites have restricted access to articles unless you subscribe, which can be expensive. There are a couple of ways to reduce the costs. Many public libraries, for example, offer a service where you can access digital copies of newspapers and magazines from around the world for free; you just need to be a library member. My local library, for example. has partnered with PressReader, and I can read online scanned copies of several French newspapers.
French news sites themselves will sometimes offer promotions where you can subscribe for a much lower price than usual, so be on the lookout for these. Finally, you can subscribe to digital versions of the newspapers through a third-party distributor, and many of these offer discount rates. To name a couple, Unipresse specialises in French titles, the aforementioned PressReader has a huge database of titles, and Magzter has a range of French magazines available digitally at discounted rates.
Reading French newspapers in their original language requires a solid knowledge of French. If you struggle to make sense of a newspaper, an alternative might be using Newsdle. Newsdle provides graded news articles from Beginner to Advanced levels, so you can choose articles that match your level. When you come across an unfamiliar word, simply hover over it to get a quick definition, and you can save words to study later. Articles are also accompanied by audio to listen along and improve your listening skills.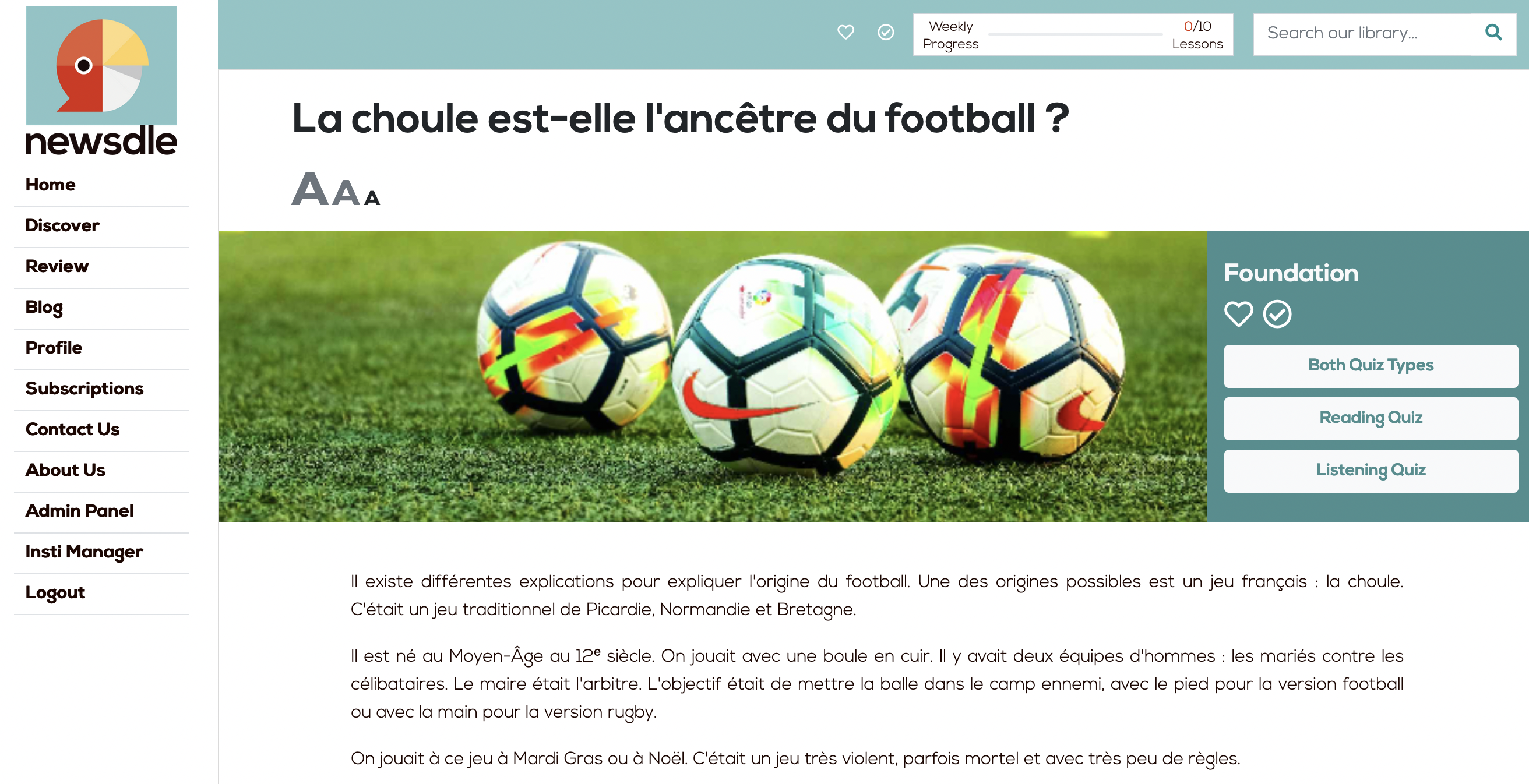 LingQ
Another resource to consider is LingQ, especially if you like to learn French by reading. With LingQ, you can import news articles from the web to read, and it too has the function of quickly looking up the meaning of unfamiliar words and saving them to study later.
Reading French newspapers is a powerful way to immerse yourself in the language. Just imagine spending 15 to 30 minutes a day, on your lunch and morning tea break for example, browsing a French newspaper. After a time, your French comprehension will have increased in leaps and bounds. And it has a bonus benefit too: not only will your French improve, so will your understanding of current affairs!
Author
Nick Dennis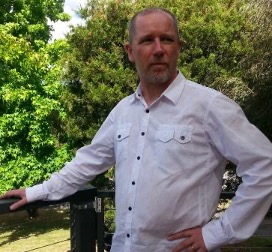 Nick is an English teacher who has taught English as a Foreign Language in China, Italy and France. He has a Bachelor of Arts (Modern Languages), majoring in French, from the University of New South Wales. He loves travel, reading and football and, of course, learning languages. Four years ago, Nick and his wife co-founded an online English language school targeted at the Chinese market (since sold to Chinese investors). He has also ghost-written the autobiography of a well-known Australian horse trainer.