French Current Affairs Programs to Level-up your French
12/09/22
Why Use a Current Affairs Program to Learn French?
When learning French, it's important to find resources that provide interesting, authentic content with plenty of variety. A French current affairs program, podcast on French current events or even a French talk show are great for this purpose, offering lively, engaging and topical material. Studying French through current affairs will also give you a deeper understanding of the world, and sometimes from a different viewpoint to what you have been used to. Furthermore, reading about French current events, for example COVID-19 or French elections, provides excellent conversation topics to practise speaking with your tutors or language exchange partners.
The internet gives you access to tonnes of French current affairs programs and other resources. Although most French current affairs and news resources suit advanced (B2 to C2) learners best, don't worry if you're not at that level yet. There are several resources that are tailored specifically to lower-level language learners.
Resources Best for Beginner Learners
Let's begin with Newsdle which provides short, graded news articles, at six levels from Beginner all the way up to Higher Advanced. New articles are added daily, and after reading you can test your knowledge with quizzes or save new vocabulary to be reviewed later. All articles are accompanied by audio, vocabulary keylists and grammar explanations. If you'd like to learn more about Newsdle and how it works, there's an interesting blog article here.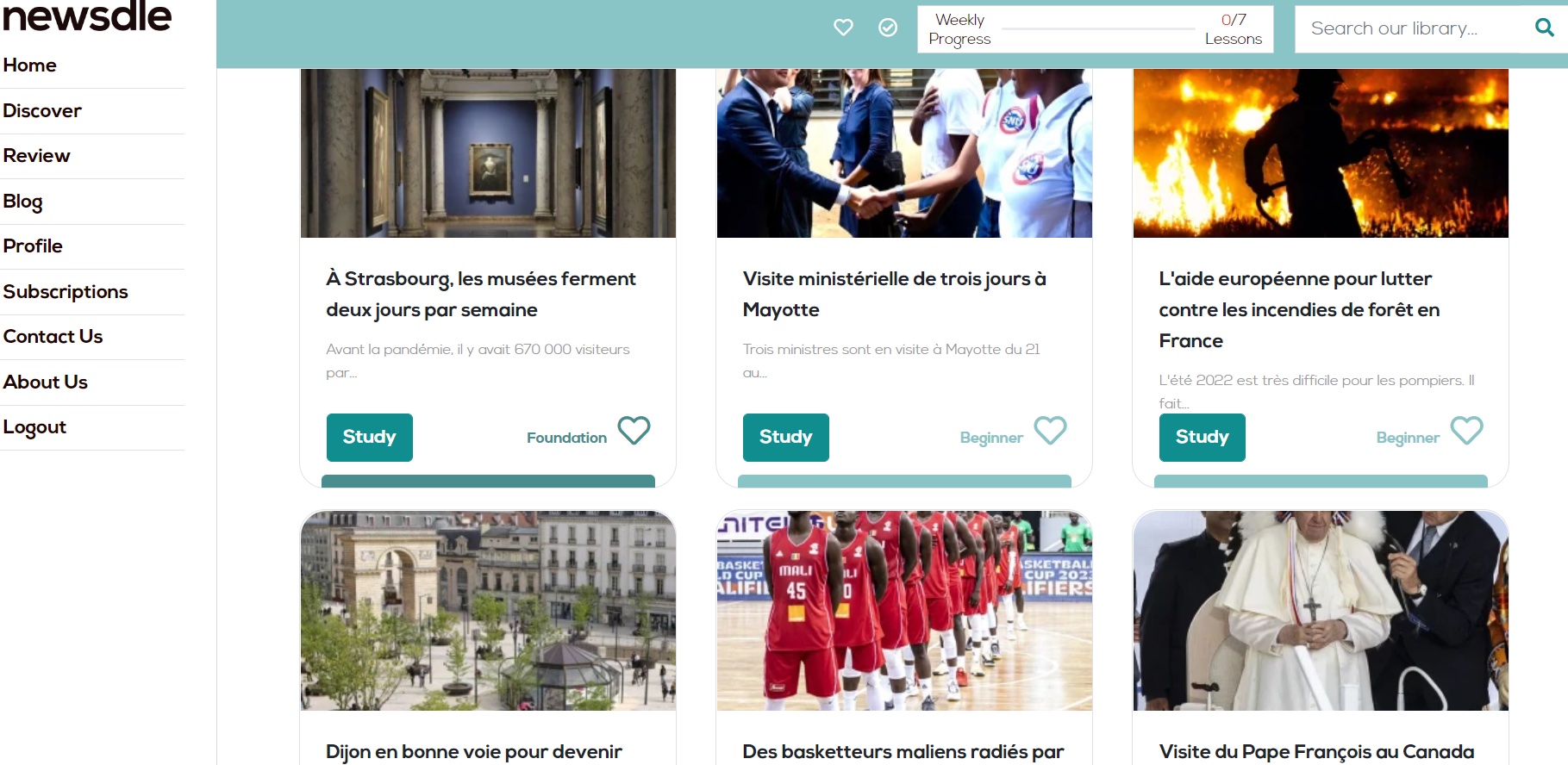 LingQ
With LingQ you can import material from the web to listen and read. If your interest is international or French current events, LingQ makes it easier by providing suggested material in its News Feed section, though this will mostly be for advanced learners. For Intermediate level students LingQ also provides transcripts for RFI's Journal en français facile and Actualité du jour.
InnerFrench Podcast
Hugo Cotton's InnerFrench resources are excellent materials for French learners full-stop. His podcasts cover a wide variety of interesting topics, including politics and economics. You can follow along with his free transcript downloads with pop-up English translations for some of the harder vocabulary.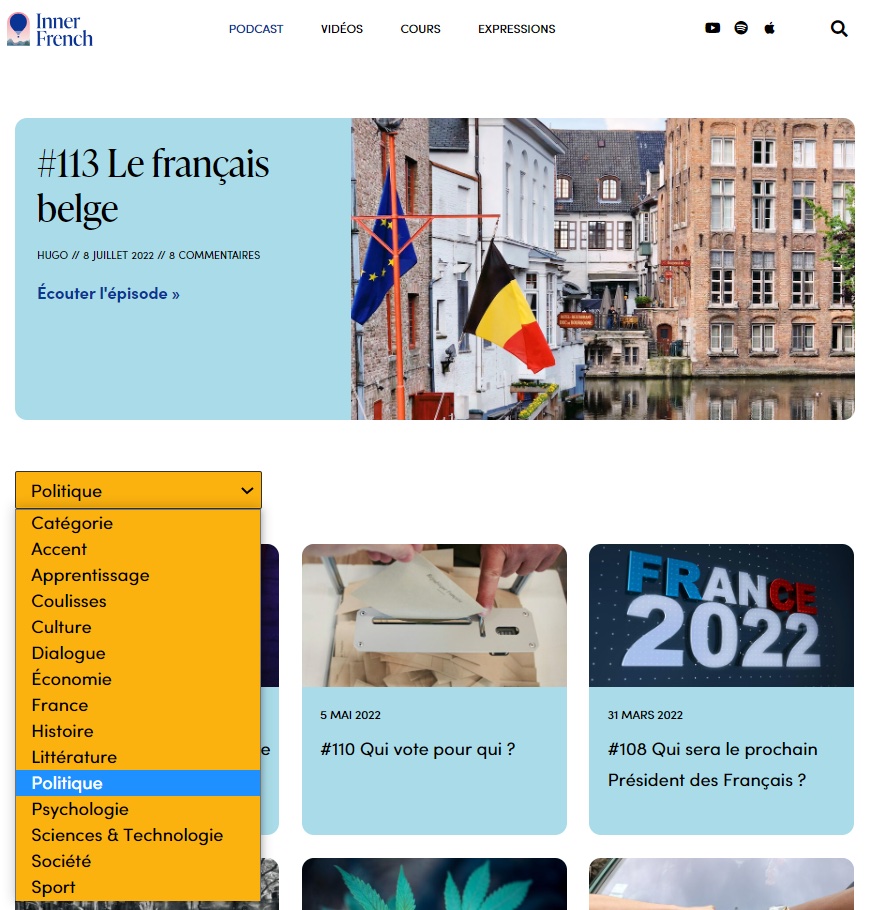 RFI Journal en français facile
A subsidiary of Radio France, the Journal en français facile is a daily 10-minute podcast summarising the day's news in a simplified French targeted at French learners. If you access the podcasts through its website, you'll find transcripts so you can read along as you listen, plus a variety of other learning materials.
FluentU
FluentU brings together video clips from a variety of sources to learn vocabulary and sentence structure. The majority of clips are things like language learning videos, music videos, ads and movie trailers. But you can also find news and current affairs videos. I had a quick look and there are almost 200 hundred news clips in French, mostly at the Intermediate level, plus around 30-40 interviews and talks. FluentU's biggest drawback is its steep price, especially compared to the other resources in this category.
News in Slow French
This website provides podcasts and articles divided into three levels. Each audio track is accompanied by a transcript which in turn contains translations for the more difficult words. In addition, the site has some interesting series, plus grammar and vocabulary lessons. You can see article samples, but to get full access you will need to subscribe and it's a little expensive.
For teachers interested in incorporating French current affairs into their classroom lessons this Newsdle blog post lists some additional useful resources.
TV and Radio News
France24
France 24 is a French government-owned broadcaster. It has a free live streaming channel that delivers world news, plus plenty of Video on Demand programs. These include French current events, African news, Asian news, finance and so on. There's also an app to watch or read on your phone.
TV5 Monde
Another government-owned broadcaster, however TV5 Monde's free content is very limited, and you need to subscribe to get access to most of the content. The programs you can access are also restricted by your geographical location, though investing in a good VPN will get around the restrictions. An advantage that TV5 Monde offers is that it has an Apprendre Le Français section where you can watch media clips then answer comprehension questions and learn vocabulary.
BFM TV
BFM TV is a privately owned 24-hours news channel. On its website there are plenty of videos and articles to access for free. You can also watch the videos on YouTube with French subtitles.
France Info
France Info is the news subsidiary of Radio France, the French public radio service. Through its website you can either listen to its radio broadcast, watch its live TV streaming, or read its news articles.
Interview Shows
A French talk show is a challenge for non-natives to follow, but great practice for listening to natural spoken French. 7 jours sur la planète is a good one to start with for Intermediate learners. It's broadcast weekly by TV5 Monde and uploaded on YouTube where you can watch with French subtitles. Another interview show available on YouTube with subtitles is the weekly France2 show Ce soir (ou jamais). And if you like a fiery French talk show, then On n'est pas couché is a great choice. You will need a VPN to watch it if you're not located in France, though you can watch clips on their YouTube channel.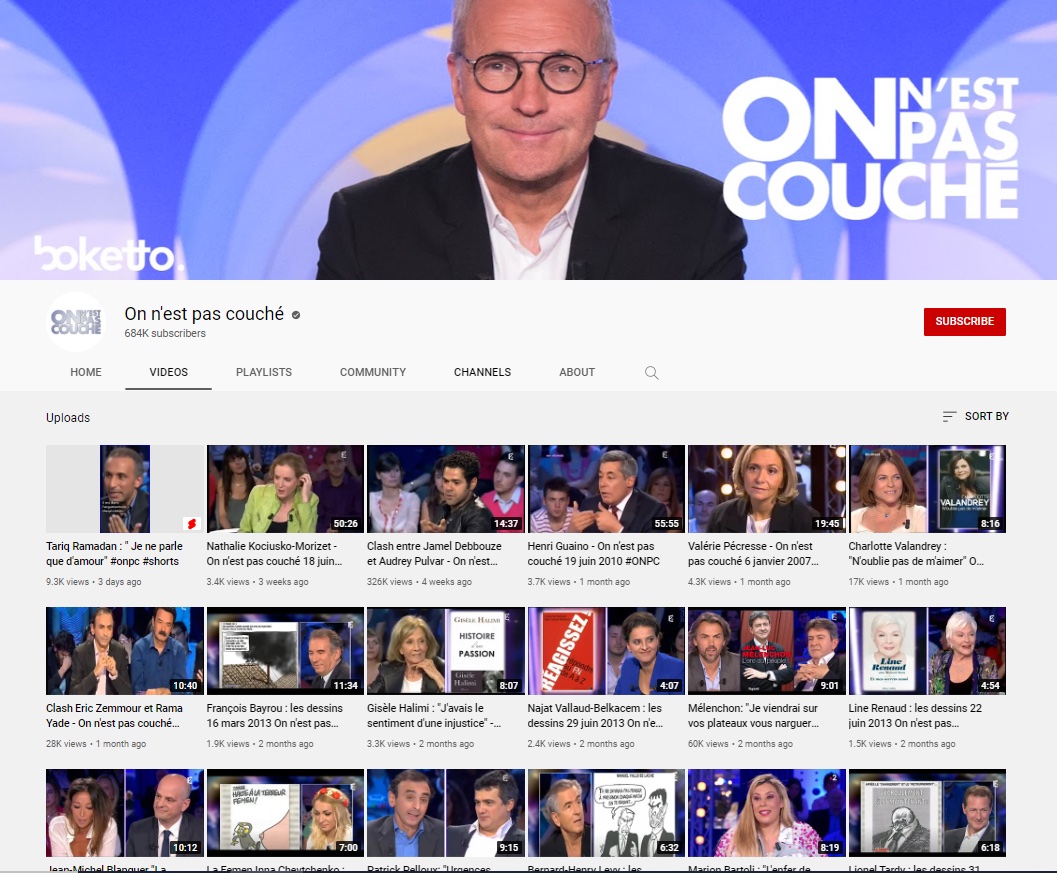 Newspapers and Magazines
Le Monde
Le Monde is arguably France's best-known newspaper. It tends to be heavier on opinion and analysis pieces, with less direct reportage than the typical newspaper. From the website you can access a limited number of articles and videos for free. Or you can subscribe for a monthly fee to get full access. Its subscription prices are quite reasonable, and you can also subscribe through Google for an even cheaper price in return for giving Google access to your data. It also has a YouTube channel.
Le Figaro
Another national newspaper, presenting news from a conservative viewpoint. For French learners, it offers an advantage in that you can also listen to the articles (albeit read with a computer-generated voice). It has similar free access to Le Monde and similar subscription rates.
Libération
France's third national daily newspaper, the left-wing Libération, has also always been well-known for its photojournalism. The web version doesn't have a lot of free articles, but an annual subscription is really good value, especially though Google.
20 Minutes
If you like your news quick and simple, then 20 Minutes might be a good choice. 20 Minutes is the free newspaper distributed to commuters to read on their daily commute. Like Le Figaro you can listen to a computer-generated audio of articles on their website. And if you grow tired of French current affairs you can always do their free crossword puzzles. Reading the Comments sections can also be eye-opening.
Paris Match
France's weekly news magazine has a free web version which has restricted access to its articles. And it's not all French current events, with articles on culture, the arts, cooking, travel and le tapis rouge (red carpet).
YouTube Videos
28 Minute ARTE
ARTE is a joint French-German public service channel, and though it's subscription-based, you can access its news program on YouTube. There's an interesting variety of programs available: reports, interviews and debates. It's a good idea to check out some of the ARTE-related YouTube channels, like ARTE Découverte, ARTE 27 (a Sunday French current affairs program) and ARTE Cinema. Just note that there are some geographical restrictions, meaning unless you use a VPN not all videos might be viewable in your region.
Brut
Brut is a media company publishing videos on news, current affairs and interviews. On YouTube they upload a video more or less every day, it might be a short two-minute satire or an hour-long interview with the Minister for Education. Best of all for French learners, they come with French subtitles.
HugoDécrypte - Actus du jour
Hugo Travers is a young journalist/YouTuber who provides an (almost) daily summary of what has been making news. He targets his videos at the youth demographic, often focusing on issues important to young people. The videos are a nice length, around 10 minutes, and subtitles are available.
Le Fil d'Actu
If you like your current affairs with a strong left-wing flavour then Le Fil d'Actu should be of interest. The videos have become a bit irregular in recent months, previously they were being uploaded every week. They cover issues in a detailed way, most of the videos are over 40 minutes long, and seem to focus only on French current events rather than international events. It too has subtitles available to help follow along.
Conclusion
Once you have found a few interesting French current affairs resources, the next step is to incorporate those resources into your language learning routine. French current affairs program resources can be used to improve the key areas of language learning:
Reading
If you want to focus on reading, then an app like Newsdle is ideal, especially if you are at the beginner's level where there are articles specifically tailored for that level. LingQ is also great for reading, importing articles from other sites and then be able to easily look up words you don't know.
Listening
The YouTube channels, media sites and Podcasts will give you thousands of hours to listen from, and catering to all levels. Many linguists recommend listening while reading along, so sites like Newsdle which provide an audio along with the texts, are excellent tools for this.
Vocabulary
Apart from taking your own notes and creating your own flashcards for any unknown words you come across, Newsdle, LingQ and FluentU will allow you to save words you want to learn which you can then practise until they become familiar.
Speaking
You can utilise French current affairs program materials to help improve your speaking skills. If you have a tutor or language exchange partner, you could suggest as a conversation topic something that is currently in the news. Then prepare for the topic using some of the resources listed above and it's sure to lead to some interesting conversations.
Writing
French current events programs can even help you improve your writing skills. Some of the resources above allow you to add Comments, so try expressing your views by commenting on a topic. Of course, you're not likely to receive corrections on your French grammar, but if you use a website like LangCorrect, iTalki or Lang8 you can submit a couple of paragraphs to be corrected. Just remember to return the favour and correct others' efforts in your native language.
When learning a language, it's extremely important to add variety to your study routine. So, if you are feeling demotivated, put aside the textbook or learning app, and watch a French current affairs program or French talk show to spice up your learning.
Author
Nick Dennis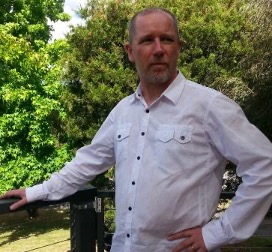 Nick is an English teacher who has taught English as a Foreign Language in China, Italy and France. He has a Bachelor of Arts (Modern Languages), majoring in French, from the University of New South Wales. He loves travel, reading and football and, of course, learning languages. Four years ago, Nick and his wife co-founded an online English language school targeted at the Chinese market (since sold to Chinese investors). He has also ghost-written the autobiography of a well-known Australian horse trainer.