The Best Spanish News Podcast for Learning Spanish
15/08/22
The Best

Spanish

News Podcast for Learning Spanish
Listening comprehension is often one of the greatest challenges for language learners. You may be able to understand your teacher or language learning app but are buried under a wave of syllables when talking to a native speaker.
Podcasts in Spanish are a fantastic way to improve your listening comprehension and learn more about Spain, Latin America, and the world.
Most podcasts have a small number of hosts which helps to get used to the way they speak and learn their dialect, speak patterns, and common phrases.
In contrast to movies or TV series, podcasts provide real life examples of how Spanish is used by native speakers, including filler words and colloquialisms. You can find more on the benefits of authentic learning materials here.
In addition to these general benefits of podcasts, Spanish news podcasts and news apps, like the ones listed below, have some special advantages and can be a huge asset in bringing your Spanish skills to the next level.
Why Use News Podcasts to Learn Spanish?
Spanish news podcasts are not only a great resource for listening practice but a source for what is happening in Spanish speaking communities around the world.
Get Used to Different Dialects
Many of the news podcasts listed below include hosts and guests with various dialects from all over the Spanish speaking world. While sometimes challenging for beginners, the exposure to different accents will help you understand the fascinating variety of Spanish dialects.
When you travel to Spain, you may expect to only hear the Castilian dialect of Madrid, but you are likely to find that your waiter greets you in the Andalusian dialect and the taxi driver speaks Colombian Spanish. Podcasts are a great way to prepare yourself to manage this with ease.
Regular Content
Because of their focus on current events, most of the podcasts below regularly release new content which allows you to get used to their style and to build regular listening habits.
Why not listen to El Washington Post when preparing dinner and catch up on the most important news of the day?
All these advantages make Spanish news podcasts also a great resource for teachers and study groups. Read more on the advantages of news for language learning here.
How Do You Get the Most Out of Spanish News Podcasts?
News podcasts offer a great resource and can be used in various ways depending on your time and language learning goals. But how do you get the most out of them?
Find the Right Difficulty
If you are looking for a Spanish news podcast to listen to while doing chores at home or taking a stroll, you will want to choose one at your level of Spanish proficiency. If you are using news in Spanish as material for a study session, it is a great idea to challenge yourself a bit.
Take Note of New Vocabulary
If you are listening while you are on a stroll, use your phone to look up unfamiliar words and take a screen shot. This only takes a few seconds and allows you to collect a list of new vocabulary that you can practice afterwards.
If you are using news in Spanish as study material, make sure to keep a list of new vocabulary as you are listening. It is helpful to set yourself an upper limit, say 15 new words, as the number of new vocabularies can quickly become overwhelming. Once you reach the limit, focus on listening and try to recognize these words again.
This is especially effective for podcasts that do a deep dive into a specific topic and repeat crucial words throughout the episode.
Give Yourself a Summary
A great way of making the most of it is to give yourself a brief summary in Spanish at regular intervals. For example, if you listen to a Spanish daily news podcast, you can summarize the headlines of the day after five minutes or at the end of the podcast.
The purpose of the summary is not only to practice speaking (or writing) and to use the words you just learned. It also helps realize which additional words would be helpful to know.
Take Advantage of Transcripts
News podcasts that provide a transcript such as Newsdle and Radio Ambulante are especially valuable for studying. After listening to the podcast, read through the transcript and pay special attention to phrases that were challenging.
Slow Down or Break It Up
Most podcasts allow you to slow down the audio and repeat sections with which you are struggling. Of course, feel free to break an episode into parts if the whole episode is too long for a single study session. It is better to engage properly with half an episode than understanding only half of it.
A Four Step Study System
For a focused study session, consider these four steps to make the most of challenging material:
Listen to the story once or twice and try to capture the main ideas.

Give yourself a verbal or written summary in Spanish.

Read the transcript and look up passages that you found challenging.

Listen to the episode again focusing on new words and phrases.
All this helps making listening to the podcast a more active experience and improve your Spanish skills. However, if you want to get the most out of Spanish news podcasts, you can do even better.
How Do You Find the News Podcasts that Are Right for You?
There are many different news podcasts available that differ in style, topic, difficulty, and frequency. So how do you know which one to choose?
The golden rule for any studying is: Find something that is interesting and relevant to you.
Latin America or Spain?
If you are interested in Latin America and Latin American Spanish, focus on podcasts that tell you about the current affairs in the region. If you are planning a trip to Argentina, why not focus on episodes on the country including interviews with the locals?
If you are excited about European Spanish, you may want to focus on life and culture in Spain and use podcasts hosted by Spaniards to get used to the different dialects.
Find the Topics that Interest You
The right topic can make the difference between being engaged in a podcast and having your thoughts trail off. Daily news podcasts are a great way to expose yourself to a breadth of new topics and vocabulary, but if you are bored of the news in your mother tongue, Spanish daily news podcasts are probably not the right choice for you.
Why not try a podcast on life in Latin America or festivals in Spain instead?
If the topic of a podcast does not interest you, just let it go and find yourself a podcasts that matches why you are excited about learning Spanish in the first place.
The Right Speed and Difficulty
The speed and difficulty may be the most important factor in choosing your podcast. Many podcasts on current events are aimed at advanced or native speakers but there are also some great podcasts for news in Spanish aimed at beginners as listed below.
If you want to practice Spanish while making dinner, you may want a podcast that is not too challenging to understand. In contrast, more challenging podcasts are a terrific way to bring your listening to the next level in a concentrated study session.
The Best Spanish News Podcasts for Beginners
Newdle provides news stories for language learners with audio and transcripts in natural Spanish. The content covers a vast range of topics from beginner to advanced levels making it a great resource both for casual listening and concentrated studying. Among the podcasts on this list, it is the most beginner friendly and makes it easy to transition from one level to the next. Rather than just being a podcast, the Newsdle app provides additional information on vocabulary and grammar for each article.
News in Easy Spanish
News in Easy Spanish by Hola Qué Pasa provides easy to intermediate news stories in Spanish with transcripts available on their website. Its articles cover news and current events in Spanish from all over the world. The breadth of articles offers something for everyone making it a great resource to study vocabulary on a range of topics.
Daily Easy Spanish
Daily Easy Spanish is a Spanish daily news podcasts for beginners with multiple episodes uploaded each day. Each sentence is repeated three times: First in Spanish, then in English, and finally in slow Spanish. This makes Daily Easy Spanish a useful resource to learn new vocabulary on a daily basis.
Hoy Hablamos
Hoy Hablamos is a podcast focused on life and culture in Spain with transcripts available in Spanish on their website. It covers everything from recent news stories to what is behind various Spanish festivals.
The Best Spanish News Podcasts for Intermediate Learners
Thanks to Newsdle's range of difficulty levels, it is also a great Spanish news podcasts for intermediate learners and deserves a second mention on this list. As a Spanish news app, Newsdle caters to all levels of proficiency
El Washington Post
El Washington Post, or el Wapo for short, is for me the best podcast for daily news in Spanish. Each day el Wapo covers a handful of news headlines from around the world with a stronger focus on Latin America and the United States. El Wapo often includes interviews with Spanish speaking experts from around the world offering a variety of dialects. This podcast is a fantastic way of including some Spanish listening in your daily routine and to catch up with the important headlines of the day.
News in Slow Spanish
News in Slow Spanish consists of three different podcasts of the same name: Intermediate Spain, advanced Spain, and intermediate Latin. The podcasts are released weekly and cover important news from the past week with a regional focus on either Spain or Latin America. As such, News in Slow Spanish allows you to dive into the region that interests you most and to adjust your level between intermediate and advanced Spanish.
Radio Ambulante
Radio Ambulante is a great current events podcasts offering weekly deep dives into relevant topics in Latin America. Episodes often range from 30 minutes to one hour and focus on a single topic. Radio Ambulante provides transcripts in both English and Spanish on their website, making it a great resource for listening and reading practice.
El Hilo
Like Radio Ambulante, El Hilo provides deep dives into individual topics in Latin America, though with a stronger focus on current events. Episodes tend to be around 30 minutes and transcripts in Spanish are available on their website.
Summary
There are plenty of Spanish news podcasts available, both for beginners and intermediates. Whether you are listening to a podcast while taking a walk or for focused studying, the key is to find podcasts that interest you and keep you engaged. The list above shows some of the true gems of Spanish news audio for any level. Whatever podcast you choose, do not miss the opportunity to repeat what you have heard and take note of the new vocabulary you encounter. Happy listening!
Author
Kolja Johannsen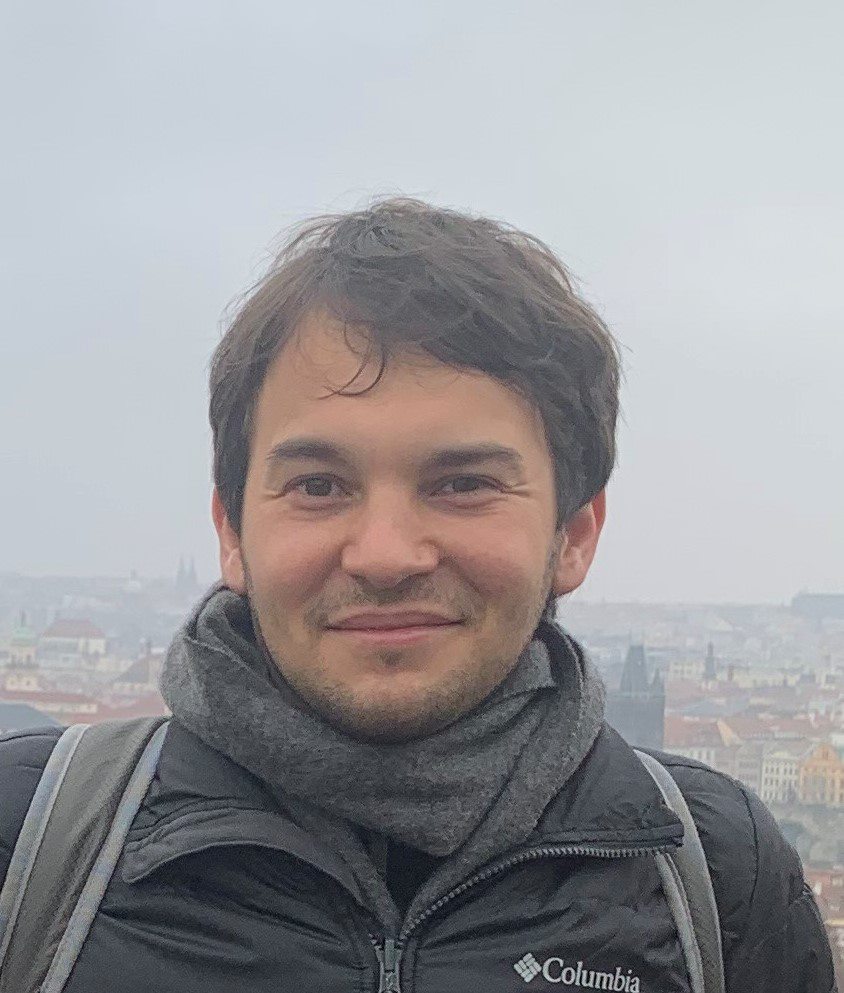 After limited success learning languages in the German school system, Kolja discovered his passion for languages as a teenager during an exchange in Argentina. Since then, language learning has been a constant in his life including minors in Spanish and Portuguese when studying international economics at the University of Tübingen in Germany. Over the years, Kolja has experimented with countless language learning methods, from high school, university, and language school classes to in-person and online tutors, exchanges, apps, and textbooks. Beyond his passion for languages, Kolja has a deep interest in history and cultures having lived in Brazil, Argentina, Spain, Sweden, the UK, USA, and Belgium. Following a PhD in Finance in the UK, he currently lives in the United States working in Data Science and studying Mandarin Chinese.