Top 7 Easy News Articles in Spanish for Beginners
20/09/22
Reading comprehension is a skill which is usually trained by providing students with standard dialogues or repetitive articles published in textbooks.
This type of training can surely help students build a strong basis. However, the best suggestion I have ever received when I was a beginner reader in Spanish was to start reading easy yet real news on lifestyle, culture or current events as soon as I had my fundamentals of Spanish solid enough.
By following that suggestion, not only was I able to deep dive into Spanish culture, but also I gained a better grasp of the language, register and style used by native-speakers in real life!
Depending on students' levels, there are two kinds of content which might help students overcome the challenge, as well as reinforce and improve their reading skills and vocabulary while learning more about Spanish culture and lifestyle:
Graded easy articles and news for beginner language learners
Authentic articles for intermediate-advanced learners
Graded Easy Spanish Articles for Beginner Language Learners
A graded article, also called adapted news-based material, is authentic content is simplified to help beginner language learners get accustomed and comfortable with this new skill.
This is an important step as learners will find articles easy to read yet challenging. They will gradually but automatically learn new grammar points, vocabulary and sentence structure. This gradual discovery of the language will motivate them to improve and read more.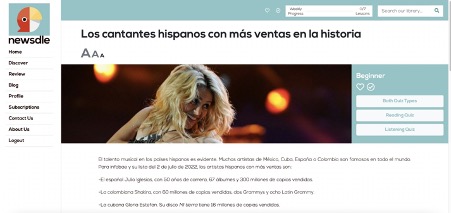 Level: Beginner to Advanced
Topics: Education, Sports, Science, World Affairs and Politics, Culture, History Transport, Animals, Nature and Environment, Technology, Business, Crime, Society, Pop Culture, Family, Art, Food, Health, Language
Description: Newsdle is the only platform and app offering graded news articles adapted for different learning levels, written both in Spanish (Spain) and Spanish (Latin America). Every article is written and graded by qualified and experienced language teachers, designed to increase student engagement with current new. In-built features such as dictionaries and comprehension exercises support learning. It is a fun and complete way to learn Spanish which allows students to gain more confidence in reading easy yet engaging content about Spanish current events in less than no time. Did you know that the founders of Newsdle came up with this idea while learning languages at university? You can read the full story in this article.
Think Spanish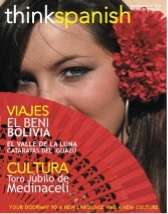 Level: Beginner to Advanced
Topics: Travel, Lifestyle and Pop Culture
Description: Think Spanish is a monthly online magazine which provides enjoyable and authentic graded articles about life and culture in Spanish-speaking countries. Every issue also includes audio materials to train listening skills. Online members can benefit from monthly exclusive content, lessons and rewards.
Punto y Coma
Level: Beginner to Advanced
Topics: Spanish News Articles, Society, Language and Literature, Travels, Sports, Arts and Culture, Music, Films and Folklore
Description: Punto y coma is a digital and printed magazine published by Habla con Eñe. Punto y coma's main aim is to provide engaging and high-quality content to teach culture of all Spanish-speaking countries. Their original news-based content includes audio materials and specific follow-up exercises for every article. It's a great resource for preparing for DELE.
Spanish Listen and Read
Level: Beginner to Intermediate
Topics: Spanish Daily Life, Science, Sports, Pop Culture and Folklore From Spain and South America
Description: Spanish Listen and Learn is a language app. It offers different articles in Spanish and every news article includes an audio track recorded in Spanish by native speakers with a neutral accent. A series of questions will be provided at the end of the reading task to help students check their reading comprehension.
FluentU
Level: Beginner to Advanced
Topics: World News, Business, Films, Pop Culture
Description: FluentU is a language learning app and platform that uses a wide range of videos and news-based materials to support students in their learning path. Every video published by FluentU includes a transcript and exercises to test students' reading comprehension.
HolaQuePasa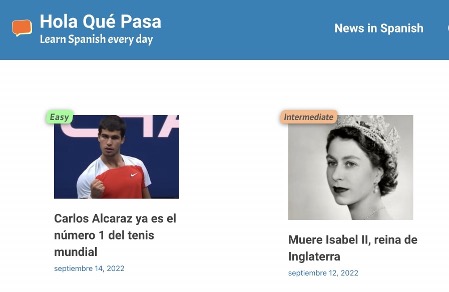 Level: Beginner to Advanced
Topics: World News, Health, Nature, Social Issues, Celebrities, Pop Culture
Description: HolaQuePasa is an online magazine and learning platform. It uses graded news, articles and podcasts catering for all levels. Every article includes audio, a video, translation of key vocabulary or sentences and quizzes to challenge and validate students' progress.
News in Slow Spanish
Level: Beginner to Advanced
Topics: World News, Politics, Science, Arts and Culture, Technology
Description: News in Slow Spanish is a streaming service providing weekly podcasts published both in Spanish (Spain) and Spanish (Latin America). It covers a wide range of current affairs articles from all over the world and every podcast comes with transcript, flashcards and quizzes.
Authentic Spanish News and Current Event Articles for Intermediate-Advance Readers
Authentic articles are those news-based contents with little or no edit at all. This type of news is more suitable for intermediate or advanced learners as students are exposed to unregulated native-speaker language. If you are a teacher and you'd like to learn more on the value of using authentic materials in class, you'll find this article quite interesting!
Español avanzado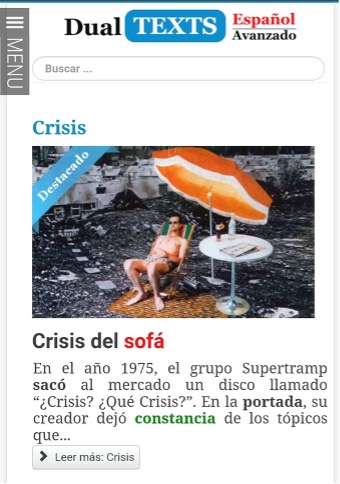 Level: Intermediate to Advanced
Topics: World News, Politics, Health
Description: Español avanzado is a digital magazine tailored to advanced language learners. All articles published on the platform are graded and provide videos, audio, exercises and one-click search in an integrated dictionary. The platform also offers advanced grammar and word usage annotations and allows members to save their vocabulary and export it to third-party programs such as Anki.
Marca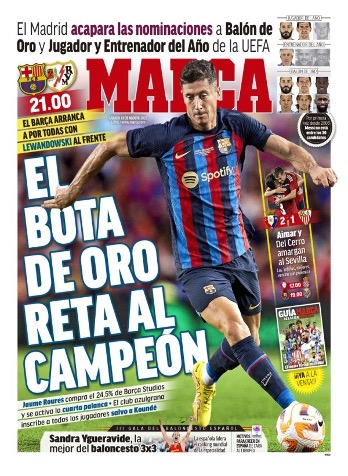 Level: Intermediate to Advanced
Topics: Sports (main focus on Football), Tabloid, Celebrities
Description: MARCA, published by Unidad Editorial, is Spain's largest sports newspaper. The main focus of Marca is football, with a close eye on Spanish teams such as Real Madrid, FC Barcelona and Atlético Madrid. It also includes daily news and articles on influencers, Instagram and renowned TV shows celebrities, and tabloids.
Vogue España
Level: Intermediate to Advanced
Topics: Fashion, Trends and Lifestyle
Description: Vogue España is the Spanish local version of Vogue and it is available in paper version, online and via app. Although the main focus is fashion, readers might find this magazine useful to understand some sides of Spanish culture. Such as its long history of traditional costumes which vary from region to region and still have a great impact on current Spanish trends and lifestyle.
¡No sabes nada!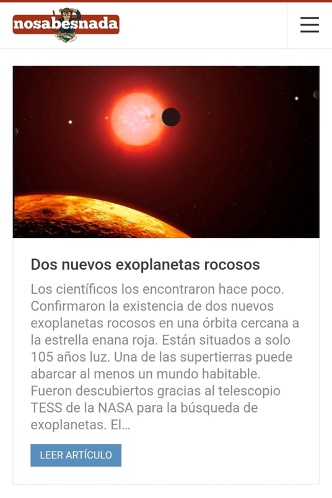 Level: Intermediate to Advanced
Topics: Nature, Science, Technology, Culture, History, Society, Research, Trends and Hobbies
Description: ¡No sabes nada! means "You know nothing!" and aims at human curiosity for the unknown on almost any topic. ¡No sabes nada! mainly uses audio or videos with transcript to show and explain facts about science, nature, society, technology, entertainment, sports, and even research. The vocabulary and writing style is easier than other similar websites which make this website suitable for low-intermediate learners.
BBC in Spanish
Level: Intermediate to Advanced
Topics: World News, Science, Culture, Sports, Health, Economy
Description: BBC Mundo is a website that provides news for Spanish speakers and learners around the world. BBC Mundo might be more suitable for advanced learners. However, BBC news is published in many languages, so adventurous intermediate learners might find it useful to compare the article written in Spanish with the same article published in another language whenever necessary.
El Mundo Today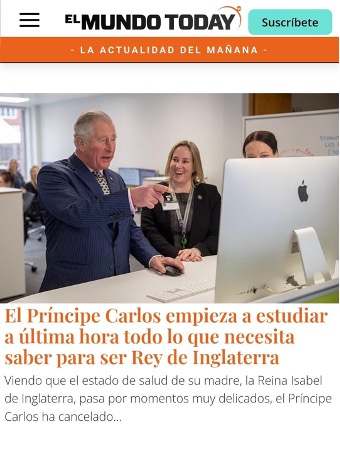 Level: Advanced
Topics: Fake News, Satire, Spanish Culture and Humour
Description: El Mundo Today is one of the most famous satirical and fake news sites in Spain. The articles are very well-written, easy to read and look reliable due to the fact the style and vocabulary used is just like the that from traditional news site El País. However, all content is fake news! Learners might love this resource to dive into Spanish humour.
How to select Spanish current event articles as a beginner
Whether you are a beginner student learning Spanish or a teacher looking for easy news articles for their students to start practising their reading skills, your choice should be based upon these four main features:
Graded: Starting to read graded content is a non-intimidating approach, which means that a student can feel more at ease with this task. This will also prevent them from feeling frustrated and discouraged by too complex structures, vocabulary and grammar.
Real: Even though beginners should start reading graded and easy articles in Spanish, the content should be real so that they can grasp a hint of Spanish real life and culture.
Engaging: Finding content which matches with students' interest is as important as being aware of their level. Reading in a second language is already a challenge. If an article is fun, informative and enjoyable, students will be more motivated and won't feel the reading task as a burden.
Accessible: Students will be more prone to read news and articles in Spanish if the access is affordable and cross-platform. While it might be easier to read content on a wider screen, students should be able to access platforms and news from their tablets or mobiles from anywhere they are. This will help them be consistent in their learning journey.
Tips for making the most out of reading the news and articles in Spanish
Find a source that both interests you and matches your level
If you are a beginner, look for graded news and articles
Set your goal - which must be realistic and feasible
Write your thoughts on paper. New vocabulary or grammar points found in the news will help you memorise everything more quickly
Practice on a daily basis, even for 10 minutes a day
Challenge yourself by writing a short summary in Spanish about the article you've just read.
Summary
Reading news and articles about current events in Spanish is a powerful tool that can make the difference in your learning experience. As you see, there are plenty of resources available for all levels, starting from beginner to advanced students. I hope the above list can help you choose the easy Spanish news and articles platform or app for students which best suits you. If you are also interested in other types of reading materials such as comics and books, you can read more about these resources here.
Anyway, don't forget the most important step: have fun!
Author: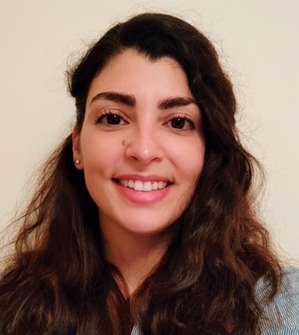 Fabia Parodi
Fascinated by foreign languages and cultures, Fabia Parodi was determined to be a polyglot since she was a child. Fluent in Italian, English, French and Spanish and competent in Mandarin Chinese, Fabia is an experienced language teacher, translator and multicultural marketing specialist.
When in class, she always make sure to include graded and authentic materials in her lessons to expose students to foreign cultures and to introduce a more natural use of the language they are learning. The two things she loves more than languages are travelling and exchanging stories with people from all over the world.