Highest Paying Foreign Language Jobs
14/07/22
Learning a language is a great way to boost your career prospects and help your resume stand out. Data from the British Chamber of Commerce recently revealed that more than 60% of companies don't do business overseas because they don't have employees with the correct language skills. So, how do you decide which language to study and what are the highest paying foreign languages to learn for your career?
What are the highest paying foreign language jobs for English speakers?
Highest paying foreign languages to learn for jobs
Geography plays a huge part in which languages you should learn for your career. You should also consider how many people where you live learn the language as a foreign language. If there are less people local to you who speak the language, the skills will be in higher demand, and you are likely to receive a higher boost to earnings. According to Euro London, learning a language has been shown to increase your wage by up to 10-15%.
The highest paying foreign languages for English native speakers are Spanish, French, Mandarin Chinese, German and Arabic.
1. Spanish
Spanish is the second most spoken language in the world with over 430 million native speakers. The US has a Hispanic population of over 62 million and is a key market for Spanish second language learners. The British Council also placed Spanish as the top 'Language for the Future' in a recent report. According to The Economist, speaking Spanish as a foreign language leads to an average of a 1.5% bonus in earnings. That's $51,000 more by the time you retire!
Half of UK employers cite Spanish language skills as useful to their business. Students who wish to study Spanish or French can use Newsdle for daily, news-based lessons for all levels across website and app. Why not sign up for a two-week free trial today
2. French
There are over 97 million native speakers of French worldwide and over 300 million people who use French in daily life. The Economist notes that speaking French means an average boost to salaries of 2.3%. According to Preply, French ranks second for the best average salary in the US and the British Council places French as the third most important 'Language for the Future'. French is the official language in 29 countries across the world, so there is a world of business and travel opportunities for people who learn French for jobs.
3. Mandarin Chinese
Mandarin Chinese is consistently ranked as the foreign language that is most in demand among employers. This is a trend that looks set to continue to rise in coming years. Mandarin Chinese is the most widely spoken native language in the world, with over 1.1 billion native speakers. Mandarin Chinese speakers are in ever-higher demand due to China's powerful economy and growing presence on the world stage. With China expected to become the world's biggest economy by 2032, demand for Chinese speakers in the workplace is only set to increase.
Data shows that there were only 21 million people studying Chinese as a second language by the end of 2021. This demonstrates a huge opportunity for growth of Chinese second language speakers to bridge cultural exchange in the workplace in future. In 2018, 37% of UK employers cited Mandarin as useful to their business.
Mandarin Chinese is also one of the most marketable languages to learn and really helps you to stand out in the crowded job market. Employers will be extremely impressed that you have learnt Mandarin Chinese as a second language, due to its reputation as a difficult language to study. Newsdle's sister platform, The Chairman's Bao, has been providing daily, news-based content for students of Mandarin Chinese since 2015.
4. German
German is spoken by 95 million native speakers around the world, which places it 11th in the list of most widely spoken global languages. There are also 80-85 million people who speak German as a second language or are studying it. The Economist places German top of highest paying languages to learn, with an average boost to earnings of 3.8%. A key factor in this placement is that German is not as widely sought after as other foreign languages in US workplaces. That means that when it is in demand, German speakers can command a higher salary boost due to there being less people who can speak it fluently. German speakers command the highest salary boost in big cities in the US when compared to other languages.
Some of the highest paying foreign language jobs are in the tech sector. More than 45% of tech jobs requiring a second language asked for German, while almost 33% looked for French. Tech is a key industry for German speakers, so if you are a techie, German might be the second language for you! German speakers in the US command average salaries of $70,000 per year.
5. Arabic
Arabic is the official language in 23 countries and has over 400 million speakers worldwide. Less than 1% of the US college population study Arabic, which means studying Arabic can really help you stand out from the crowd. Over 26% of UK employers say that Arabic language skills among their workforce are useful. There have been calls both in the US and UK for Arabic to be taught at school level and Arabic looks set to continue to grow as a second language of choice globally within the coming years.
Factors to consider when choosing which foreign language to learn

Have you decided on a foreign language that you'd like to learn? That's a great first step! You should consider some of the below factors to see which foreign language is best suited to you now and for the future!
1. Number of people who speak the foreign language locally and demand

It's important to take geography into account when choosing which foreign language to study. Two key factors that should be considered are: 1) how in demand each foreign language is where you live, 2) the supply of other people locally who speak each foreign language. If foreign language skills are in demand in your local area for a language you speak, you will have more chance to find a job using your foreign language. However, you also need to consider how many other people will be vying for the same positions by considering the supply of people who speak the language. This simple supply and demand analysis can help you to find the highest paying foreign languages in your area.
In the US and UK, for example, foreign language learning has been on the decline in recent years. This means that students who continue with foreign language studies may be more in demand in the job market in future years.
2. Difficulty of learning the language from your native tongue

Not all languages were born equal… that is so say some languages will be harder to learn than others from your mother tongue. Of course, a lot comes down to your own motivation to study a language so always try to choose a language that interests you. Think culture, food, travel… these are all factors to consider when choosing which foreign language to study!
According to the Foreign Service Institute, the 10 easiest languages to study for English language speakers are:

Afrikaans
Danish
Dutch
French
Italian
Norwegian
Portuguese
Romanian
Spanish
Swedish
For the above 10 languages, it is estimated that 24-30 weeks of instruction, or 600-750 class hours are enough to reach professional working proficiency. Although that may seem like a lot, when compared to Mandarin Chinese and Arabic (2,200 hours / 88 weeks of instruction) it doesn't seem so bad!
3. Ease of access to study materials and lessons

Another important factor to consider when choosing which foreign language to learn to boost your career potential is accessibility to resources. If you are interested in studying a foreign language at college, you can check local courses. Likewise, you may find a local teacher or group session to help keep you motivated and engaged in your language learning journey. With a wealth of online resources, there has never been an easier or more accessible time to learn languages. You could try taster lessons on apps or websites for each of your top language choices, to see which you enjoy the most. You would then only need to commit when you have an initial understanding of the language you wish to study!
4. Where you would like to live or travel to in the future
As well as your current location, you should consider where you would like to work, live and travel to in the future when choosing which foreign language to study. Many languages such as Spanish, French and Arabic will open you up to many countries worldwide in which you will be able to use your language skills in the workplace.
5. What type of careers you are most interested in
It's no good working tirelessly towards a career that doesn't interest you, even if the industry salaries are high. Ensure the language you choose to study aligns with your personal interests and beliefs. After all, money is important, but it isn't everything!
What type of jobs are most in demand for foreign language speakers?

Learning languages opens you up to a world of opportunity in the global job market. Here are some of the most in demand jobs for foreign language speakers.
Translator and interpreter. According to the US Department of Labor, demand for translators and interpreters is set to rise by 42% in the next 10 years.
Software developer. As well as the popularity for German (45% of foreign language jobs) and French (33%) speakers in the tech sector, Mandarin Chinese is growing exponentially as a tech job second language requirement.
Civil service. Foreign language skills are always highly sought after in the government and defense sectors. Institutions such as the Defense Language Institute in the US and UK intelligence services recruit foreign language students from colleges and universities to join their programs.
Language teacher. A great way to keep up on your foreign language learning is to teach or enter academia. There are also many modern approaches to teaching such as online tutoring, so you don't necessarily need to spend all day in the classroom and you could even travel while you work!
Banker. A very popular career path for foreign language graduates is in banking and finance. Global markets provide opportunity to use your foreign languages in the workplace and to stand out from the crowd.
Many more. One of the biggest benefits to studying a foreign language is that it doesn't pigeonhole you into any single career. Learning languages makes you an extremely attractive candidate in any sector and gives you something to talk about during your job interviews!
What are the benefits of learning a foreign language for jobs?

There are many benefits to learning foreign languages, but we'd like to highlight some particular benefits of learning a foreign language to boost your career prospects.
Increase productivity. A 2016 study showed that people who speak a foreign language can save up to three hours a week. This is due to a reduction in misunderstandings in the workplace. A boss's dream!
Boost employee retention. Communication between a team is one of the most important factors in employee retention, as employees feel welcomed and part of a workplace community. People who speak foreign languages can develop much deeper interpersonal relationships when conversing with people in their native tongue. Business leaders report employee retention as their number one priority in the workplace!
Higher proportion complete tertiary education. Students who study foreign languages are 10% more likely to complete tertiary education. People who have completed bachelor's degrees in the US have salaries 85% higher on average than those whose highest level of study is a high school diploma.
Increase chance of reaching senior positions. Learning a foreign language in school is associated with an 8% increase in the chance of becoming a manager or professional in your career.
Make you smarter. Studying a foreign language has been shown to increase your cognitive skills and even reduce the risk of dementia in old age. It has also been demonstrated that when a bilingual person speaks a language, the other is active at the same time. This leads to significant cognitive and neurological benefits.
Boost creativity. It is widely believed that learning a foreign language can boost creativity. In recent years, there have also been some studies that have shown this to be the case. Business leaders consistently seek to increase creativity in the workplace, so people who speak foreign languages are a smart choice!
There is no doubt that learning a foreign language can boost your earning potential in your future career. It is important to decide which languages you want to learn and how they will impact you going forward. All that said, the most important thing to remember is that language learning should always be fun and engaging. If you enjoy studying a language, you have more incentive to study daily and this will open more doors for you in your future career.
Author: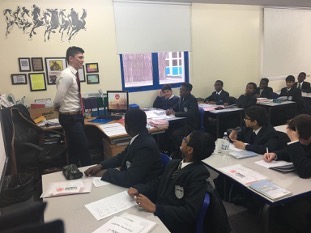 Sean McGibney speaking to students at Beths Grammar School about his experience of learning Chinese, living in China and founding Newsdle and The Chairman's Bao.
Sean studied Chinese and Spanish at University of Leeds and founded The Chairman's Bao alongside Tom Reid in his final year of study in 2015. Current Managing Director of The Chairman's Bao, he has overseen the company's growth from university bedroom concept to an international force in the EdTech industry with over 200,000 individual users and over 400 global partner institutions. Sean also launched Newsdle alongside Tom Reid and Oliver Leach in 2021, for students and teachers of Spanish and French. In his spare time, Sean is still a keen language learner and runner. He also sits on the Board of charity Leeds Irish Health and Homes in the UK.
Sources:
British Chamber of Commerce
Euro London
British Council
Organisation for Economic Co-operation and Development
The Economist
Preply
China Daily
Pearson
The Telegraph
Foreign Service Institute
US Department of Labor
IDG Research
Dana