Spanish And Hispanic Cultures: Teaching Through Spanish Reading Comprehension Practices
27/03/23
¡Bienvenidos!
Are you a teacher looking for fun, engaging and effective resources for your Spanish reading comprehension practices? Would you like your students to learn about and connect to Spanish and Hispanic cultures? Then look no further!
As a fan of in-context teaching, I am happy to share some exciting reading resources and activities that facilitate learning about target cultures in Spanish as a second language. These suggestions will expose your students to the diverse and rich cultures of the Spanish-speaking community while also enabling them to become more confident in Spanish.
Both the authentic and the graded readers listed in this article are available online and can be accessed from anywhere you are, making it easier to integrate them into your lessons.
Moreover, all authentic grade-level readers include Spanish reading comprehension quizzes or come with open-close questions so as to develop students' reading skills and support biliteracy while building cultural knowledge and fostering multicultural understanding.
¿Listos?
Authentic grade-level texts
Newsdle
Newsdle is an excellent app for Spanish reading exercises since it provides authentic yet graded information that is both engaging and instructive. The app's content offers a diverse selection of topics, so you can literally adapt its use to your class's needs and programme.
Key features
Digital or printed version: digital (desktop and app)
Language skill(s): reading, listening, grammar in context, vocabulary
Comprehension practice: Yes
Graded levels: from Beginner to Advanced higher
Categories: social aspects such as culture and pop culture, food, art, education and many more
Variants: Spanish Castellano and Latin American Spanish
Teacher dashboard: Yes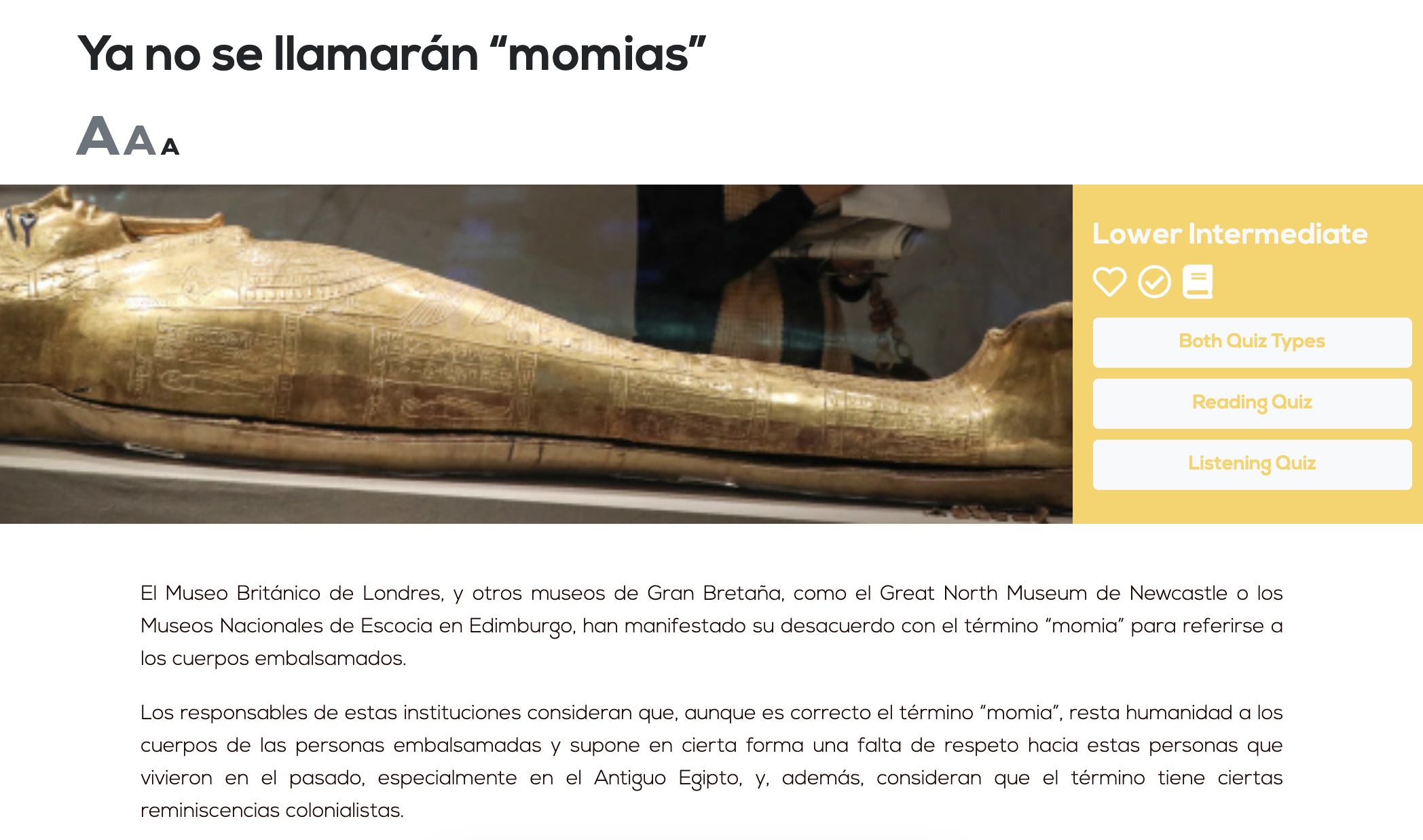 Why teachers should use Newsdle in class
If you want to easily plan activities to develop culturally relevant lessons for your students in order to expose them to the different views and experiences of Spanish-speaking communities worldwide, Newsdle can support you with:
Interesting and culturally relevant content. Do you know that gastronomic controversy has recently sparked on social media in Latin America? No? Well, this is one of the latest articles you can find on Newsdle. Login and let your students connect even deeper with Hispanic culture.
Authentic yet graded materials: Your students will receive a true feel of what it's like to read authentic Spanish language resources in the real world because the content is based on authentic materials. Yet, they will be able to learn at their own pace as each article is graded to meet every student's proficiency level.
Up-to-date: with its content published daily, it's easy to stay updated on Spanish news and culture.
Reading comprehension: Newsdle provides reading quizzes at the end of each article. You can integrate them in your lessons or take inspiration from them for your written tests.
Clean and simple user interface: Search the perfect reading practice by topic, level, or keyword. Also, students may monitor their improvement and view their reading and learning progress.
Scroll down to our case study to learn more about what teachers think of Newsdle.
BlackCat - Cideb
BlackCat - Cideb provides graded language learning tools such as textbooks and interactive online exercises. The programme focuses on the development of practical communication skills via meaningful contact and engagement with the language.
Key features
Digital or printed version: digital (desktop and app) + free paper copy
Language skill(s): reading, listening, grammar
Comprehension practice: Yes
Graded levels: A1-C1
Categories: Spanish and Latin American culture, short stories, classics, adventure, drama, crime
Variants: Spanish - Castellano
Teacher dashboard: no
Why teachers should use Cideb-Black Cat in class
Realistic language use. The collection contains both fiction and nonfiction publications that are all rated according to the CEFR levels, making it simple for teachers to choose relevant resources for their students.
Interesting and culturally relevant. They are presented in a way that language learners can appreciate and embrace a wide range of topics and genres, including anything from classic literature to current events.
Quizzes: Completion exercises, vocabulary lists, and other learning aids are included in the books to assist students reinforce what they have learned and measure their progress over time.
Colección Marca España
This graded reader collection by The Spanish Bookshop covers many areas of Spanish culture and current affairs, ranging from a traditional subject like Flamenco to an overview of the world of Spanish commerce, as well as gastronomy and food.
Key features
Digital or printed version: printed reading resources
Language skill(s): reading, listening
Comprehension practice: Yes
Graded levels: A2-B1
Categories: culture, business, food, society, young people
Variants: Spanish - Castellano
Teacher dashboard: no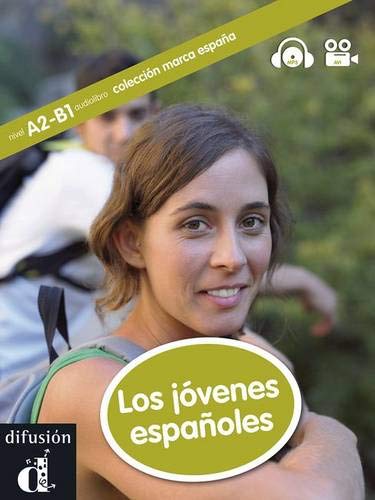 Why teachers should use Colección Marca España in class
Culturally relevant. The collection provides students with a wide range of topics related to society, history, current events and articles targeting young people who can better relate to Spanish-speaking teenagers' experiences and therefore be more engaged in their study.
Reading quizzes. The textbooks and workbooks provide a number of exercises and activities that may be used both for in-class and online teaching.
CEFR assessment-based. This implies that teachers may utilise the resources in Colección Marca España to assist their students in meeting particular language learning objectives and tracking their progress over time.
Beelinguapp
Beelinguapp Spanish is a language learning app that has a different approach in comparison to Newsdle as it provides side-by-side translations of text in Spanish, allowing users to easily follow along and comprehend the material.
Key features
Digital or printed version: app
Language skill(s): reading, listening, vocabulary
Comprehension practice: Yes
Graded levels: A2-C1
Categories: culture, stories, news
Variants: Spanish Castellano
Teacher dashboard: no
Why teachers should use Beelinguapp in class
Dual-language display, which allows users to read the text simultaneously in their native language and Spanish. This makes it simple to comprehend the text's content and acquire new vocabulary words in context.
Reading quizzes, to help users reinforce what they have learned and measure their progress over time, in addition to its enormous collection of tales.
Hablacultura - Punto y coma digital
"Hablacultura - Punto y coma digital" offers Spanish learners various resources to improve their language skills while reading on different topics related to Hispanic culture, such as art, history, and traditions.
Digital or printed version: desktop
Language skill(s): reading, listening, vocabulary
Comprehension practice: Yes
Graded levels: A-B-C
Categories: culture, art, history, and traditions
Variants: Spanish Castellan, Latin American Spanish
Teacher dashboard: Yes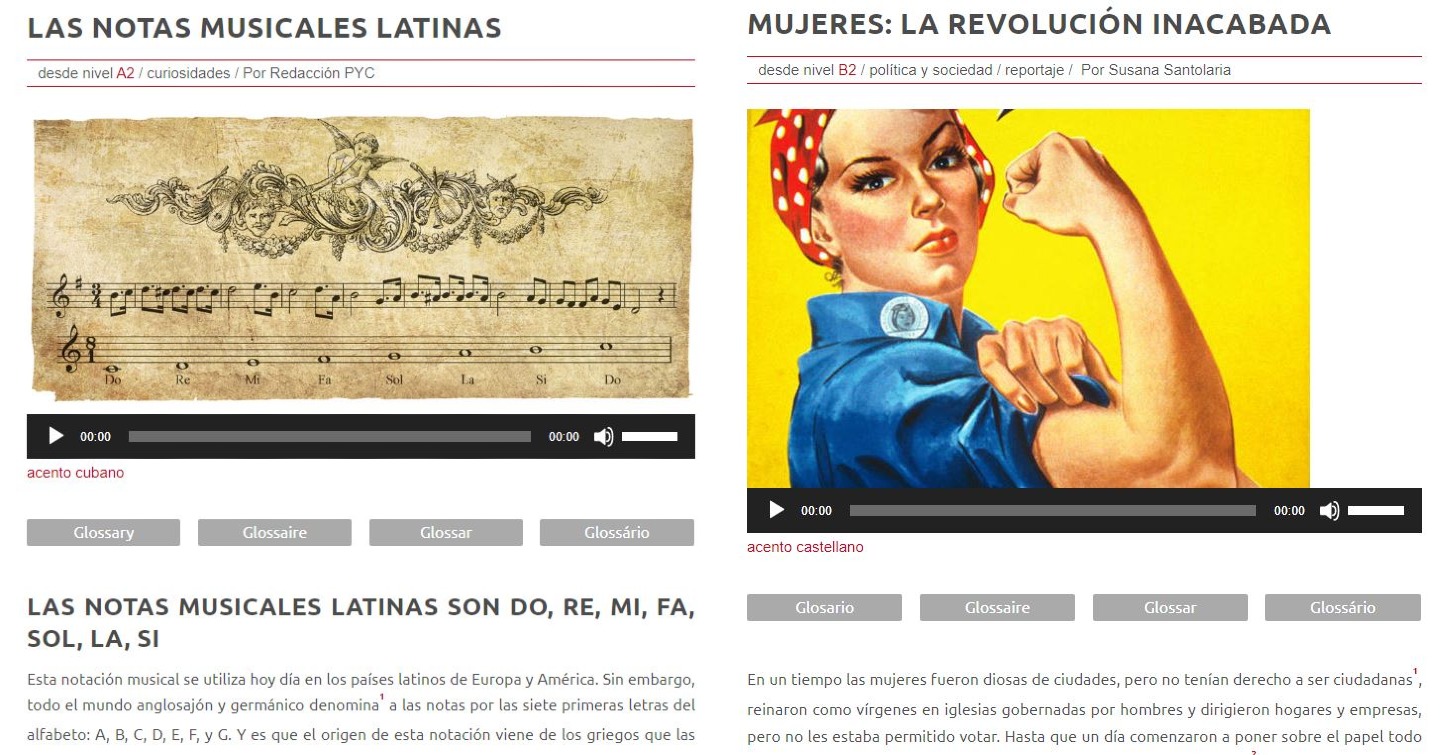 Why teachers should use Hablacultura in class
Culturally relevant: Hablacultura provides culturally relevant content that reflects the experiences and perspectives of Spanish and Latin American communities.
Reading comprehension quizzes: Hablacultura offers reading comprehension quizzes that can help teachers assess their students' understanding of the material.
Free resources: Hablacultura offers some free basic resources and articles, which means that teachers can use it without having to worry about the cost of purchasing additional materials. This option does not include the access to comprehension exercises.
Authentic Spanish Resources
One of the best ways to expose students to culture is guiding them in reading authentic Spanish content. As we have already talked about the most important newspapers and magazines as a reading practice, let's focus on different online and printed resources.
Books: Reading authentic literature in Spanish can also be a great way to improve your language skills. One book I really enjoyed reading as it's highly relatable and modern is Entre limones (Driving over lemons). In this true story, the former Genesis drummer and his family migrate to Spain and adapt to new cultures and traditions. How relatable is that?
Newspapers and magazines: feeling lost in the sea of newspapers and magazines? Fear not, we got you covered! We've recently discussed this topic here, check it out!
Instituto Cervantes: The Instituto is an internationally renowned non-profit organisation that promotes Spanish language and culture. They offer a range of resources for Spanish learners, including authentic texts at different proficiency levels.
Centro Latinoamericano de Información de la Red (LANIC): The University of Texas, Austin hosts this online database of resources on Latin American economics, society and culture.
El Centro Latino del Smithsonian The bilingual learning lab Nuestros viajes / Nuestras historias: Retratos de logros latinos portrays a group of extraordinary Latino men and women and the stories they tell.
How Teachers Can Use Authentic and Graded-Level Resources to Teach About Culture
Pre-cultural project activities: Encourage students to explore aspects of Hispanic culture that interest them. But before that, look for the topic on the reading apps or websites to introduce the vocabulary and avoid important cultural shocks.
For example, students could research a Hispanic festival and present their findings to the class, but they might need some support in the vocabulary and cultural aspects of the festival. This type of project, in combination with grade-level resources, can help students develop their research and presentation skills while also learning about Hispanic culture.
Authentic assessments, such as writing prompts, oral presentations, and role plays, to evaluate students' language skills. Authentic assessments provide students with opportunities to demonstrate their language skills in real-life situations and can help teachers assess their students' proficiency more accurately.
Make culture relatable or "shocking" while focusing on student needs and interests: Use resources that are relevant, current, and appropriate for the students' language skills and cultural backgrounds to assist them in participating in the learning process, as well as absorbing and remembering the knowledge.
Tips To Nail Cultural Spanish Reading Comprehension Practices
As a teacher, here are some tips to help your students nail cultural Spanish reading practices:
Integrate cultural activities into your lessons: Cultural activities can help students interact with the topics they are reading. Students might, for example, investigate a cultural holiday or custom and report their findings to the class in Spanish.
Scaffolding the reading experience: This can assist students in developing their confidence and knowledge of cultural Spanish resources. Pre-reading exercises, such as vocabulary and background information, can assist students comprehend the context and meaning of the text.
Promote reflection and discussion: Urge your students to think about what they've read and share their ideas and opinions with their peers. This can assist them in gaining a more in-depth awareness of the cultural subtleties and views given in the materials.
Emphasise cultural competency: Throughout your courses, emphasise the relevance of cultural competence. Help your students realise that cultural Spanish reading activities are about more than just learning and respecting cultural differences and opinions.
Case Study
A US Teacher's Tips – How to Teach Spanish Conversation and Culture Using Newsdle
In this interview, Sabrina Laroussi, an associate professor at the Virginia Military Institute, talks about her experiences using Newsdle in her Spanish conversation and composition classes.
She initially liked Newsdle because it allowed her students to research news articles and come to class to discuss them with activities of different levels of difficulty.
She mentions that, for language instructors, finding a textbook that fulfils all of their needs is a challenge, but Newsdle helped solve this problem by providing a platform that covers conversation, writing, and culture.
She now integrates Newsdle into her daily work by assigning articles by level, exposing students to different Spanish-speaking countries, and using Newsdle to prepare students for a movie or cover Hispanic food.
Laroussi thinks the most useful feature of Newsdle is the ability to choose articles by level. Her students enjoy the challenge of the activities and appreciate the feature that lets them look up the vocabulary and how to pronounce the word.
Laroussi believes that Newsdle is a perfect tool to expose students to Hispanic culture and current events and has improved the efficiency of the language teaching process by saving her time in searching for Spanish materials.
If you're curious to know more on how and which activities you could plan with Newsdle to teach Spanish, you should definitely check a couple of suggestions we've gathered here.
¿Preparados?
Teaching Spanish and Hispanic cultures through reading comprehension practices can be a fun and engaging experience for both teachers and students. If we stop and think about the history of Spanish language for a second, we completely understand how diverse and culturally rich this language is.
From festivals and gastronomy to history and social media, you should be the first one to have fun including these cultural reading activities in your classes, as this will help your students connect with them on a deeper level and see the relevance of what they are learning to their own lives.
¡Suerte!
Author: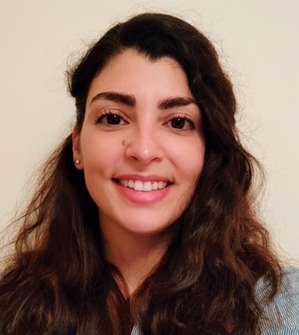 Fabia Parodi
Fascinated by foreign languages and cultures, Fabia Parodi was determined to be a polyglot since she was a child. Fluent in Italian, English, French and Spanish and competent in Mandarin Chinese, Fabia is an experienced language teacher, translator and multicultural marketing specialist.
When in class, she always make sure to include graded and authentic materials in her lessons to expose students to foreign cultures and to introduce a more natural use of the language they are learning. The two things she loves more than languages are travelling and exchanging stories with people from all over the world.